This is an archived article and the information in the article may be outdated. Please look at the time stamp on the story to see when it was last updated.
We're glad you asked!  Weekend Philler is a weekly video clip show that runs on the weekend on PHL17. (Currently Saturday nights at 11:30 pm and Sunday nights at 5:00 pm).   The videos are lighthearted short pieces about interesting people, places and things all over Philly, NJ and DE.   We like to say we're putting the YOU, back in UHF…  (even though we are fully aware people under 30 have no idea what that means.)  Basically it hearkens back to a time in local TV when UHF channels took themselves a little less seriously and had the freedom to make really interesting content.
Here are some Weekend Philler Promos. We run these on the Weekend Philler Facebook each week and tag the people on the episode. (Social is a huge part of  Weekend Philler.)
Weekend Philler is produced by PHL17's award-winning Creative Services Department.  Many of the videos you see come from that department in the form of digital fun features that we produce for online consumption.  The team of producers that make Weekend Philler are very much like the the Breakfast Club.  They are all very different, but still a little the same– and of course forced to come in on Saturday by the Principal– or something like that.  The end result is a wide variety of local videos with something for everyone.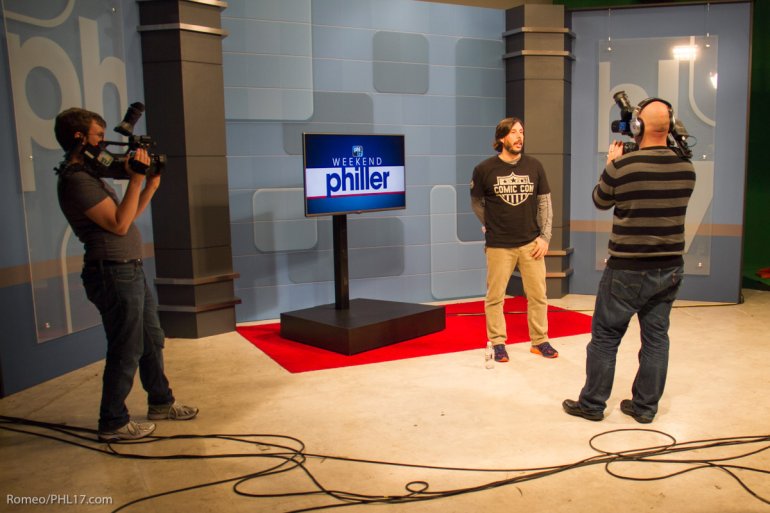 Weekend Philler is hosted by Creative Services Digital Producer, Tony Romeo.  You have seen him before in PHL17 commercials, heard him in voice overs, giggled at him as Peter Cheeseman, sat through pre-rolls and ads to view his digital stories and hopefully you follow our station's FB where he makes with the funny as well.   The show is executive produced by PHL17 Creative Services Director Travis Brower, who brings the whole thing together but still gets his hands dirty making segments and hosts a mini "show within a show"–we call, Weekend Game Show, every few weeks.  Rounding out the team are a great team of producers that all make segments, but also pitch in in other ways as well.   John Clements likes to make spots about wrestling, gaming and comic culture, but he also line produces and heads up the Weekend Philler Twitter.  Producer, William Lehan is also the artist behind the Weekend Philler show graphics. Producer, Kristen Hatfield, produces PHL17's  Community Affairs program and uses those contacts to help find  "pheel good" spots and also helps with Philler Social Media.  Weekend Philler producer, Bianca DiMaio appears in and produces Bianca's Bike Tours (Emmy Nominated in 2017), started the Weekend Philler Instagram and got our "Show Us Your Stuff" segment started.  Our friends in the PHL17 Morning News Department also pitch in when they have a story that fits the format.
But the real star of the show is YOU.  We give you the mic and let you tell your extraordinary stories.   We put a lot of care into our segments because we love this area, we love putting great people and great stories on TV and  we are always looking for new ideas.