This is an archived article and the information in the article may be outdated. Please look at the time stamp on the story to see when it was last updated.
In just five years Ryan Krill, President and Co-founder of Cape May Brewing Company, and his staff of 45 have become one of the top craft beer brewers in the Garden State.   The beer has a decided New Jersey feel and sources local ingredients from the state of New Jersey.   It's distributed to hundreds of bars and restaurants in two states and continues to just grow in popularity.  Two popular offerings from Cape May are their IPA and a beer called Devil's Reach. Named for a cove in Cape May.  This summer they are also releasing a seasonal called Summer Catch.
But at Cape May, it's not just about the beer– it's also about the experience when people visit the facility and they encourage fans of craft beer to make the trip.  Ryan and crew have gone to great lengths to make an interactive, informative and fun tour for visitors.  The tour ends with a chance to sample the latest beers from Cape May including experimental flavors and beers you will only find on location at Cape May.  For those not into beer they offer signature sodas and iced coffee.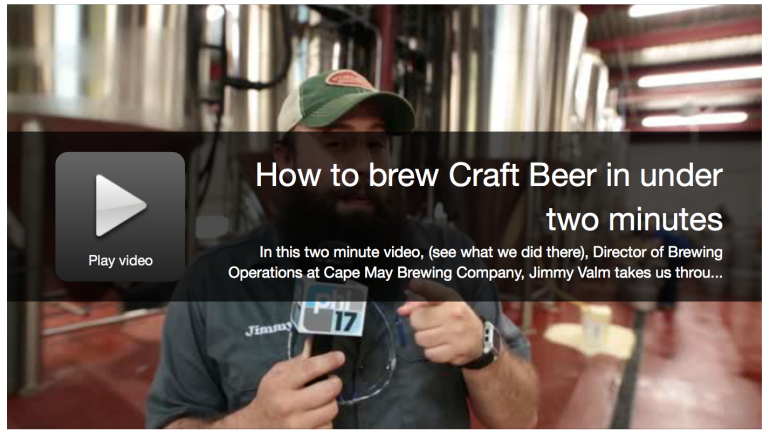 In addition to the crafts and the tours, Cape May donates thousands of pounds of "spent grain" to local farmers each year.  Spent grain is the by product of the brewing process.  Giving back, keeping it green and establishing a true beer culture are what it's all about at Cape May Brewing Company.
By: Tony Romeo / PHL17
Got a great idea for a web story? Tweet me @tonyromeo or send me an email.  As always, thanks for the tip!
MORE CRAFT CORNER on Weekend Philler!