This is an archived article and the information in the article may be outdated. Please look at the time stamp on the story to see when it was last updated.
Are you having a get together or just want to impress yourself with some awesome mixing abilities. Well, we are going to show you how to turn a classic drink into a modern sensation.
The first drink to receive a makeover is Caiprinha. Originally made with chachaca, muddled sugar, and lime, the updated mix includes an infusion of Pink Peppercorn. Do not be daunted, It is a great mix of three simple ingredients, which are 1/4 cup of pink peppercorn in a bottle of Muddled Sugar, and Lime. The last thing to do it to leave it in the bottle for 48 hours and strain it.
Up next is the traditional cosmo, whose ingredients are Vodka, Triple Sec, Cranberry juice, and Lime. The remix is Vodka, Limoncello, Cranberry juice, Lime, and a splash of orange juice. Sounds great doesn't it!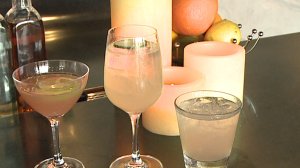 And lastly, the South Side Royale, the English summertime drink. Which is simply a mix of Vodka or gin, muddled cucumber, muddled mint, sugar, lime, and Prosecco (which is what makes it royale). The mordern mixer is made of reposado tequila, muddled red pepper, and cucumber.
So if you'd like to spice up your drinks, I suggest these ideas. For more information on Stratus Rooftop Bar and Lounge or to check out any of Gulliver's other drinks, go to stratuslounge.com.
For more drink ideas, follow me @FemiRedwood.
Tune into Eye Opener every weekday from 6am to 8am and follow us @EyeOpenerPhilly.