This is an archived article and the information in the article may be outdated. Please look at the time stamp on the story to see when it was last updated.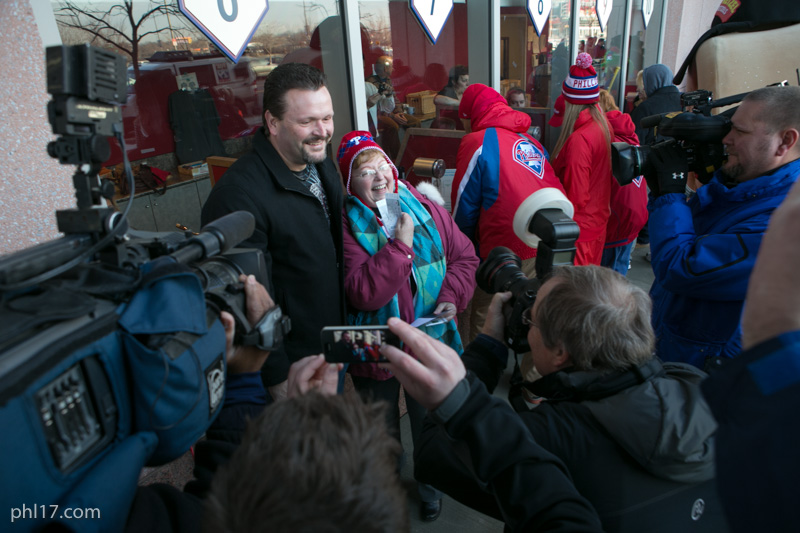 Every year Phillies fans line up at Citizens Bank Park starting in the wee hours of the morning to get first crack at single game tickets.  This year the Phillies presented those faithful fans with a few surprises.  Surprises began while fans waited in line with visits from the Phanatic, Tommy Greene, Tom McCarthy and the ballgirls.  Later fans received free ballpark tours, photos ops on the field, complimentary breakfast and discounts at the Majestic Clubhouse Store.  Tickets went on sale at 8:30am on Wednesday and fans started lining up as early as 1:00 a.m.
VIDEO:
PHL17's Zachery Lashway headed down to Citizen's Bank Park this morning to join some die-hard Phillies fans as they waited in line for the release of 2013 single game ticket sales.  While there, he caught up with John Weber, VP of Ticket Sales  and Tom McCarthy, longtime broadcaster for the Philadelphia Phillies.  He also had some close encounters with the Hatfield Pig, JJ the Super Pretzel and everyone's favorite mascot, the Phanatic.  Zach also interviewed the first two die-hard fans in line who camped out overnight to be the first to purchase tickets for the 2013 season!
PHOTOS: