This is an archived article and the information in the article may be outdated. Please look at the time stamp on the story to see when it was last updated.
Many of us have been touched by someone who has had cancer. University Of Pennsylvania hospital  has a new treatment that could help make the battle a little bit easier.  Proton radiation therapy assures doctors that they are only targeting cancerous tumors, and not other sections of the body. Penn Robert's Proton Therapy Center is only one out of eleven centers in the country to offer this innovative treatment.
Proton radiation therapy detects the patient's tumor and directly applies Proton Radiation to the area. The sessions last approximately 15 minutes, and the patient returns for 6-8 weeks.
I met with lung cancer survivor, Kathy Brandt, who thanks the doctors at Penn Medicine for giving her a second chance at life. Kathy was an ideal candidate for the treatment because regular radiation could have damaged her normal tissue. While proton radiation therapy is not recommended for every cancer patient, it is a beneficial option for many, regardless of the price.
For more information about Robert's proton therapy you can visit www.pennmedicine.org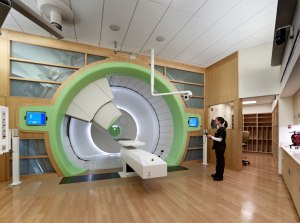 By Ashley Johnson @AshleyNJohnson3