This is an archived article and the information in the article may be outdated. Please look at the time stamp on the story to see when it was last updated.
The Mid-Atlantic Robotics (MAR) FIRST Competition has been accurately described as "screaming fans, costumed mascots, pulsing music, pounding hearts and well-built robots jostling for victory." The gymnasium at Hatboro-Horsham Senior High School was packed March 1st & 2nd for this year's Aerial Assist Competition. More than 100 student teams from Pennsylvania, New Jersey and Delaware work for months after school and on the weekends building robots to enter in the spring competition.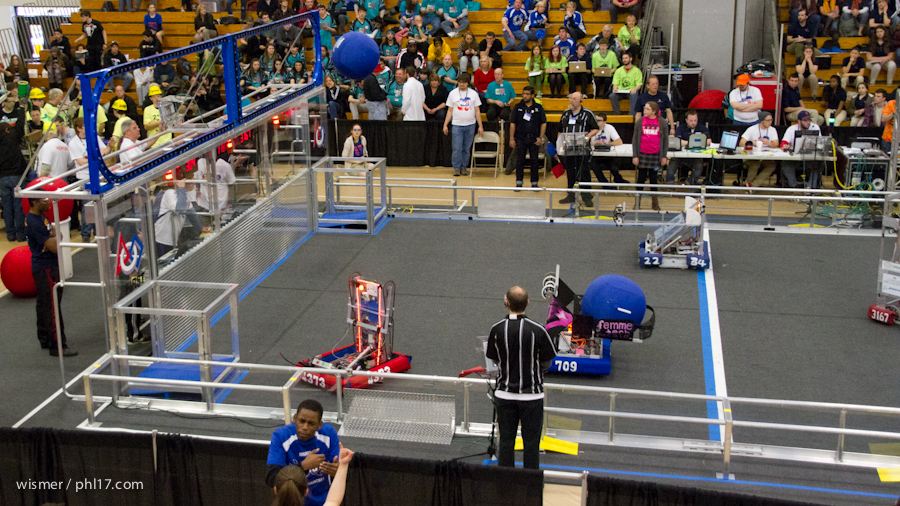 Aerial Assist is played on a 25′ by 54′ rectangular field with goals on each side similar to soccer or football. Each team or "alliance" sends in three robots to compete in a 2 minute and 30 second round against an opposing alliance. The object is to score as many goals as possible in the round, but more points are awarded to alliances based on their teamwork. For instance if a robot passes the ball to a friendly robot who scores, this is worth much more than a single robot scoring from center of the field at the beginning of the round.  Drivers control the robots from each end of the field.
Winners and participants of this year's FIRST Robotics competition are eligible to win one of the 850 individual scholarships ranging from $1,000 to full tuition for a 4 year undergraduate degree. Below is some raw footage of the event.
MAR is a non-profit who's goal is to show students the rewards of science, math, technology and team work.  Currently there are 2,500 teams and 58,000 students worldwide involved with MAR.