This is an archived article and the information in the article may be outdated. Please look at the time stamp on the story to see when it was last updated.
Well, it's Friday in the beautiful city of Philadelphia and what better way to kick of the first official day of summer than with a segment we call "Phillies Friday"!
Today we've caught the Phillies team members, not on the diamond, but dressing up and stepping out for the annual Jimmy Rollings Family Foundation Charity Event. Dressed accordingly for the Harlem Nights theme many actors, singers, dancers and members of the NFL, MLB, NBA, and NHL showed up in their grandparents' Sunday best to support a good cause.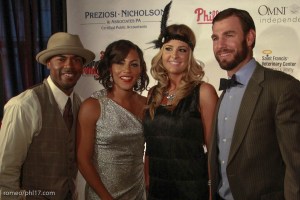 The Jimmy Rollings Family Foundation is a non-profit organization which supports young adults who suffer from chronic diseases, and their families who struggle financially. Tickets for individuals started at $300 and sponsorship started at 5,000 and ranged all the way to 25,000.
Carlos "Chooch" Ruiz was an Eye Opener favorite.  Who is your favorite Harlem-style Phillies player?  Check out these photos and let us know on Twitter @EyeOpenerPhilly.  For more Phillies spotlights, tune in to Eye Opener every weekday from 6-8am.
For more information about the Jimmy Rollings Family Foundation, visit www.jrff.com.