This is an archived article and the information in the article may be outdated. Please look at the time stamp on the story to see when it was last updated.
This week in Biz Bites, Peter and I headed down to Wedge + Fig to try out some new ways to experience cheese!  Located in the heart of Old City in Philadelphia, Wedge + Fig is a cheese bistro…that's right, a CHEESE bistro!  From mild cheeses, to "lusty" and "robust" cheeses, this quaint bistro is a great spot to stop by for lunch or an early, light dinner.  The cute spot also featured hearty soups and salads, as well as inspired sandwiches.
Needless to say, Peter and I barely left a crumb on our cheese platter and made a pretty good dent in our sandwiches as well!  Pretty darn good ratings from Mr. Van Allen as well…3.5/5 for both atmosphere and value, and a solid 4/5 for the food.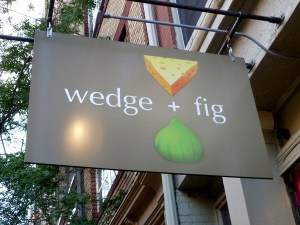 Check out Eye Opener every Thursday morning from 6-8am to join Peter and I on all of our culinary adventures throughout the tri-state.  And hey, if you know of a place that you'd like us to check out, let me know on Twitter @JenLewisHall.
Catch all of the latest and greatest action on Eye Opener by visiting us on Facebook or Twitter @eyeopenerphilly