Who among us can remember where we were a year ago? Chris Eubanks can. Then 26, he was finding cheap flights to South Korea and pinballing around college campuses, playing small challenger tennis events. It was all in service of amassing points—and $1,300 here, $4,200 there—to sustain his professional career and, ideally, crack the ATP's top 100.
With a quick wit, a perceptive eye and a personality impossible not to like, he was also starting to distinguish himself as a broadcasting talent for Tennis Channel—where, full disclosure, he and I sometimes worked together. If the tennis didn't pick up, Eubanks was pondering swapping locker rooms for green rooms.
To traffic in understatement, 2023 was a good year for Big Banks. The Georgia Tech grad made more than $1 million over the last 12 months. He won an ATP title in Mallorca, Spain, reached the quarterfinals at Wimbledon, and is now ranked No. 34, potentially in line to be seeded at the next major. Much like hitting his target with his thunderous serve, he found that sweet spot between enjoying the trappings and opportunities and courtside seats that come with ascent, while keeping perspective and respecting that success can be a fickle mistress.
Eubanks's emergence caught the eye of companies as well. So it was that a few weeks ago, a rep from Vita Coco offered an opportunity to interview its "brand ambassador." These invitations can be fraught, a weird quid pro quo where a media member is given some access in exchange for a product plug. (Aside: Dan Patrick talking to Matt Harvey about "honoring Qualcomm" remains a cringe-inducing classic.)
In this case, the Vita Coco endorsement is relevant to the story. That Eubanks is being pitched as a celebrity beverage spokesperson speaks to just how far he's come. So we accepted the offer.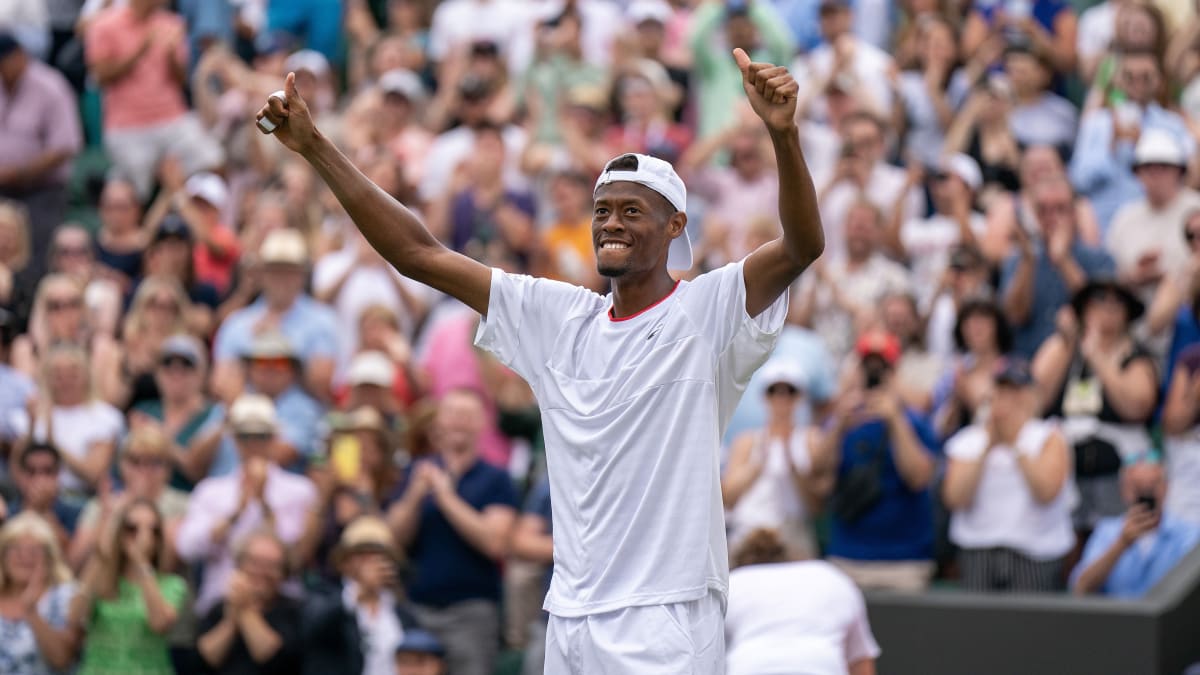 Sports Illustrated: I suspect a year ago you would not have envisioned Vita Coco brokering your interviews.
Chris Eubanks: Yeah, absolutely not. There weren't too many interviews a year ago.
SI: Taking inventory of the last 12 months, now that you've got a little detachment, how do you process?
CE: It's all still kind of been a bit of a blur. So, I was starting the year in Pune, India. And to now be able to have my longest offseason I've ever had—not playing the challengers that are going on right now—it's still a bit mind-blowing at times. But I feel like now, I've had enough time to where I can just say like, all right, this is, for now, my new reality; all right, what do I need to do to make sure this stays; and this doesn't become just like a one-off, right?
SI: What's the answer to that? What do you need to do to make sure this stays and doesn't become a one-time thing?
CE: I've heard many people say it's a lot easier to maintain it than it is to do it from the ground up. So, I'm in a position now where I'm focusing on my body physically during the offseason. I just know the tennis, for the most part, is going to take care of itself. As long as I'm healthy and my body's in as good of shape as it can be, I know I can go on court with the confidence that, like, all right, that wasn't just a flash-in-the-pan type of thing. As long as my body's good, I like my chances to keep this thing going.
SI: What's your happiness level a year ago compared to today?
CE: Yeah, it's maybe a little bit more now. I did feel like I was playing some really good tennis last year. … The overall vibe? I think my happiness, a lot of the times, it can be dependent upon, I would say, financial constraints.
SI: What's been your biggest extravagance?
CE: I remember before I went out to Shanghai, about 10, 12 of us just got together in L.A. for a dinner. But I haven't really bought anything too, too crazy. Most of that money, I'm setting aside to pay taxes on and to save as much as I can. Oh, I think I may have bought a watch. That was no more than, like, maybe three grand.
SI: I was thinking, how much are you sinking into your training, preparation, personnel? Career investment.
CE: For the most part, my coach and I, we've been doing a pretty good job over these past, whatever, 18 months. So it's not really a need to look at changing anything. We're just going to kind of keep going the way that it's been going. And, you know, in tennis, like, things can turn quickly. So my main focus is just setting money aside for a rainy day, I hope, never happens, never comes, but I'm sure it's pretty inevitable in this sport.
SI: As Sloane Stephens says, when you get on the plane, are you turning right or are you turning left these days?
CE: Oh, man. It's really, really expensive. I'm still turning right, and I'm going on to the back. Occasionally, domestic flights, I'll get upgraded just because of my status. And if I can get the exit row with nothing in front of me, I'm booking that seat every time. If I can't get that, those are the rare occasions in which I say, all right, I may need to splurge a little bit and get Comfort Plus.
SI: You might well be seeded in Australia. And you're telling me you're making a right-hand turn when you come down that jet bridge …
CE: At the end of the day, it depends on how much the flights are. Like, I'm not about to jump in and swallow seven, eight grand one way! I'll get there early enough to where my body will be able to recover.
SI: What other sorts of takeaways?
CE: You know, I'm going to bigger tournaments and I [know I am] in main draws everywhere that I enter. So that's probably been a really cool change, just because a lot of times I'm managing the qualifying list versus the main draw list where I'll get in.
SI: When you look back on this year, what's the one predominant memory?
CE: Oh, that's a tough one. Maybe Miami, third round [against] Grégoire Barrère, just because I've never in my life felt that much emotion on a tennis court—and still haven't. Even winning Mallorca wasn't as emotional as I was right after that third-round match. Even Wimbledon quarter, I wasn't nearly as emotional, kind of smiling and laughing and going about it.
But after that match with Barrère—we had multiple rain delays, late into the night, a lot of starting and stopping, I was pretty much back-against-the-wall in the second set breaker. [Editors' note: He was down 2–6.] I was able to fight back and win that, and then to find out after the match that that put me in the top 100.
That's probably still the one thing that I would think back on is that, the picture that I saw of me sitting on the bench. With my head facing my towels just because I couldn't believe this is how I finally made it. When you realized it? That's probably the biggest [memory] because I never felt anything like that before on a tennis court.
SI: Where's your TV career figuring into all this? You had a good thing going.
CE: Yeah, it's still there. I'm excited to do some during Next Gen. But after that we'll just kind of have to see when it can fit into the schedule. But it's still there, and I don't plan on it going anywhere. I'll kind of work around and figure out how to make it happen.
SI: We'll keep your seat warm.
SI: Have you had to learn how to say no and protect your time?
CE: Well, yeah, but that was never really a problem.
SI: Just so we do them right, tell me everything I need to know about Vita Coco.
CE: I started drinking coconut water, um, really when I was about 17, 18. My dad saw it, I believe. Actually if I'm not mistaken, the first time I had it was [as a kid] at the Atlanta Tournament, the Atlanta 250 back in the day, so probably back in like 2012, 2013, and I never had coconut water, gave it a go, couldn't stand it, thought it was really, really bad.
As I got older, I started playing in more hot and humid conditions. I started drinking a little bit more and, then actually at the Atlanta Open in 2017, when I quartered, I was going to Publix and that's what I was drinking during the matches. I had it after my first match in which I beat [Taylor] Fritz, and, at that point, it got mental.
So I said I'm gonna drink coconut water every match and I kept buying the Vita Coco. So it was really a cool full circle when they came back to me looking to try to do a partnership. … It's a product that I enjoy. I bought it before; I would still buy it.