Forty names, games, teams and minutiae making news in college football (disguises sold separately for players in San Marcos, after Texas State gave up seven touchdowns to Arkansas State of longer than 40 yards, but only three were on the defense; there was a 91-yard fumble return, a 93-yard kickoff return, an 87-yard interception return and a 50-yard interception return): 
First Quarter: Nine Perilous Paths to the Playoff
Simply put, we haven't seen a pileup of contenders quite like this in the 10-season College Football Playoff era. Tossing out the aberration of 2020, this is the first time in that span that we have five 11–0 Power Five teams this late into the season: Georgia, Ohio State, Michigan, Washington and Florida State. Add in 10–1 Oregon, Texas, Alabama and Louisville, and there are nine P5 teams with one or zero losses—a total that has only been surpassed once at this late juncture (there were 10 in 2016).
There will be a sorting out in the next two weeks—or perhaps a bunching up. Six of those nine definitely will play a game against another team from the group, and likely eight of the nine. Ohio State will play Michigan in an armageddon matchup carrying maximum emotional payload Saturday. Georgia will play Alabama and Florida State will play Louisville on Dec. 2. Oregon and Washington are advancing toward a rematch Dec. 1.
It will be great fun to watch, unless you're a selection committee member. That job could be harder this year than any previous. Let's take a look at nine paths to the playoff, and where the biggest complications could arise.
Georgia (1). Record: 11–0. Current CFP ranking: No. 1. The two-time reigning national champions are on top of their game at the right time, once again looking like the team to beat, crushing ranked Mississippi and Tennessee teams on successive Saturdays. Quarterback Carson Beck is becoming a star in real time. If the Bulldogs beat Georgia Tech Saturday and Alabama in the Southeastern Conference championship game, they're in and will be the No. 1 seed. If they lose to the Crimson Tide they might still get in, but would likely need some help—specifically, it would be beneficial is neither the Pac-12 nor ACC champions are undefeated. (If Georgia loses to to the 23-point underdog Yellow Jackets Saturday, it would be one of the most shocking results of the Playoff Era. That's something that doesn't need to be factored in until it happens.)
Ohio State (2). Record: 11–0. Current CFP ranking: No. 2. The Buckeyes have won their last two games by a combined score of 75–6 and have averaged 36.7 points over their last three contests. Running back TreVeyon Henderson has produced four straight quality games since returning from injury to spark that unit. If Ohio State beats Michigan on Saturday and punchless Iowa in the Big Ten championship game, the Buckeyes will be in the field as the probable No. 2 seed, if Georgia is No. 1. If Ohio State loses a close game in Ann Arbor to finish 11–1, it might need some combination of the following: Georgia to beat Alabama and eliminate the Crimson Tide; someone to beat Washington in the Pac-12 championship; Louisville to beat Florida State in the ACC title game; someone to beat Texas this week or next week.
Michigan (3). Record: 11–0. Current CFP ranking: No. 3. The Wolverines had their closest contest of the season Saturday, holding off Maryland 29–24 in the second of three closing games without suspended head coach Jim Harbaugh. Quarterback J.J. McCarthy recorded his worst pass efficiency rating in two seasons as the starter at 94.96, as Michigan's passing game has become a concern over the last two weeks. If the Wolverines beat Ohio State without Harbaugh and take care of Iowa in the Big Ten title game, they'll advance to the playoff for the third straight season—likely as the No. 2 seed, if Georgia is No. 1. If Michigan loses to Ohio State and joins the one-loss rabble, the Wolverines would benefit from everything listed above with the Buckeyes—losses by Alabama, Washington, Florida State and Texas, primarily. Even then, the Wolverines' weak schedule could push them too far down the one-loss totem pole to get in.
Washington (4). Record: 11–0. Current CFP ranking: No. 5. The Huskies should have been in the top four last week, and arguably as high as No. 2 or No. 3 this week with victories over Oregon, Utah and Oregon State. If they beat Washington State this week in the Apple Cup and beat Oregon a second time to finish 13-0, Washington will be no worse than No. 3 on Selection Sunday. If the Huskies lose to either the Cougars or the Ducks, their place in the one-loss pool would be a point of contention. They'd certainly be behind Oregon, but could the Pac-12 sneak a second bid with a pair of 12–1 teams? The Huskies would need Georgia to take care of Alabama, Louisville (or Florida) to beat Florida State and perhaps someone to beat Texas. Then it might come down to a contentious resume contest between Washington and whichever Big Ten team finishes 11–1.
Florida State (5). Record: 11–0. Current CFP ranking: No. 4. The saddest sight of the weekend, and arguably the entire season, was Seminoles quarterback Jordan Travis (6) being carted off after a gruesome leg injury Saturday. Travis has played extremely well in leading Florida State back to national relevance, and the timing of his injury is brutal for him and the team. The looming question now is what the selection committee will do with a Travis-less FSU team. The 'Noles have a good backup in Tate Rodemaker, and if they stay undefeated with him and look good doing it against Florida and Louisville, this could be the Cardale Jones 2014 situation all over again. Ohio State made the CFP that year after injuries to its first two QBs and wound up winning the whole thing, as Jones turned into an overnight star. But if the 'Noles lose, they're almost certainly out. If they win ugly and Rodemaker struggles, the decision could become complicated even at 13–0, depending on who is 12–1 and how they got there. In theory, the committee has to evaluate FSU based on the players who will be available in the playoff, and Travis will not be there.
Oregon (7). Record: 10–1. Current CFP ranking: No. 6. Since losing at Washington on a missed field goal at the end, the Ducks might be the hottest team not named Georgia. They've won five straight by an average margin of 24.5 points, with quarterback Bo Nix lighting up the Pac-12 every week. If Oregon wins out to reach 12–1, chances are strong they will be in the playoff. At present, the Ducks are the highest-rated one-loss team—and if they defeat 8–3 Oregon State and 11–0 Washington the next two weeks, it's hard to see them losing that distinction. Even the loser of the Ohio State-Michigan game would figure to be behind Oregon. However, if Alabama beats Georgia, that could blow up the one-loss hierarchy as it currently stands. The Ducks need to win two games and become big Georgia fans, as do several other teams.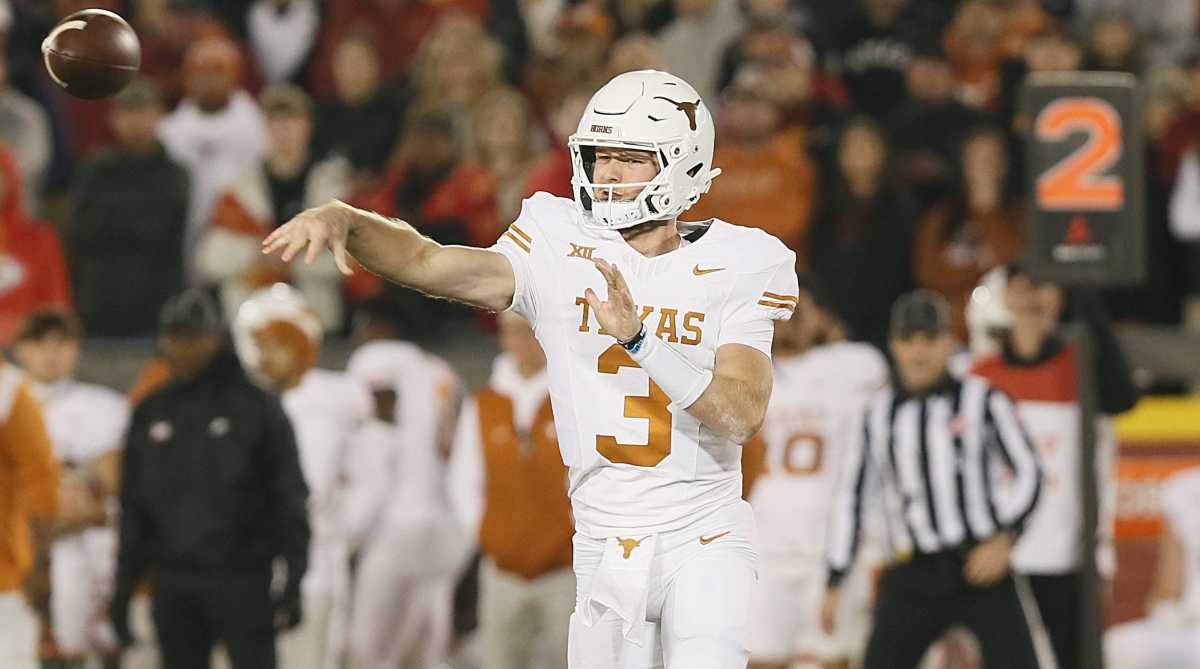 Texas (8). Record: 10–1. Current CFP ranking: No. 7. This could get all kinds of interesting. If the Longhorns beat Texas Tech (with Big 12 commissioner Brett Yormark perhaps in attendance and sending subliminal support to the Red Raiders), they're in the league championship game against … somebody. We'll see. If Texas wins that to get to 12–1—and if it wins a possible rematch with Oklahoma to do it—the resume debate with other one-loss teams will be spirited. Texas would have the trump card of beating Alabama by 10 points on the road, the kind of win nobody else has yet put on the board. But it also happened on Sept. 9, approximately two lifetimes ago. If Alabama does what no team has done in two years and defeats Georgia in Atlanta, does Texas's head-to-head win over the Crimson Tide still resonate into December? There are many other variables with Texas and Alabama and Oregon, but that's the most intriguing and divisive possibility.
Alabama (9). Record: 10–1. Current CFP ranking: No. 8. Provided the Tide doesn't cough up a Jordan-Hareball in the Iron Bowl, their task is simple (but not easy): end Georgia's two-year winning streak and dare the committee to keep the SEC champion out of the playoff for the first time. Especially when that champion is Alabama, coached by Nick Saban, winner of six national titles since 2009. (If Alabama and Georgia are 12–1 and left out, Greg Sankey will have a Finebaum filibuster for days.) It would be easier for Alabama if several other contenders lose, of course.
Louisville (10). Record: 10–1. Current CFP ranking: No. 10. It's been an incredible season for the Cardinals in Jeff Brohm's debut as their coach, but getting to the playoff will require coast-to-coast mayhem. First, of course, Louisville has to beat rival Kentucky, then take down Florida State in the ACC title game—both of which are conceivable, given the Travis injury. But even then, Louisville would still be at the back of a one-loss pack of undetermined size. (If Florida State is beatable due to injury, beating them would not be given the same weight as other wins teams are going to pick up.) So Louisville would need some major upsets in rivalry games this week, Arizona winning the Pac-12 and/or Iowa winning the Big Ten. More likely destination for a 12–1 Louisville: the Orange Bowl.