This is an archived article and the information in the article may be outdated. Please look at the time stamp on the story to see when it was last updated.
The Phillies may have taken a day off from baseball, but they stayed at the ballpark for a great cause! It was the 24th annual Phillies Phestival that supports the ALS Association to raise money and awareness for the organization.
The Phillies players and their families dedicated their time to show support for the patients and their families afflicted with ALS. Since the event began in 1989, they spend the day taking pictures, signing autographs, giving away Phillies memorabilia, auctioning off exclusive items, and showing the community how much the organization cares about and recognizes ALS.
The smiles on the faces of the patients tell the whole story and on top of the experience, the Phillies raised about $900,000 for the organization's research and treatment! With 7,000 fans in attendance, as usual the event was a resounding success!
Check out our great photos from the event by clicking here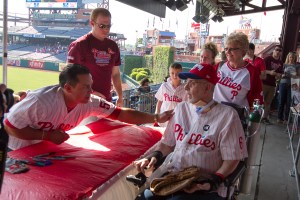 Phillies Friday presented by Honda airs weekly on PHL17. Catch up on Eye Opener weekdays from 6-8am and follow us on Twitter @EyeOpenerPhilly.