This is an archived article and the information in the article may be outdated. Please look at the time stamp on the story to see when it was last updated.
Which pirate costumes are best?
It's almost Halloween. You're rapidly running out of time to find the costumes you need for your parties or trick-or-treating. If you can't stand making your own, a great option is a pirate costume. Because of pirate costumes' enduring popularity, there are plenty of designs to choose from. Plus, there is a pirate costume out there for every age and body type. You don't have to spend the big bucks to get a solid pirate costume either, but if you want to splurge, you can get a costume you can wear year after year.
What to know before you buy a pirate costume
Complexity
Pirate costumes vary greatly in complexity. The most basic pirate costume is just a head scarf that you can pair with a white T-shirt and black pants that you already own. Some of the most complex can involve more than a dozen articles of clothing and accessories. Child and adult costumes each have simple and complex options.
Color
Most pirate costumes are either brightly or darkly colored.
Bright costumes use pristine whites and plenty of crisp reds and blues. These lean hard into the cartoonish idea of a pirate. Most children's pirate costumes use bright colors. These are usually best for events that don't take costume quality seriously.
Dark costumes use deep blacks, browns and maroons. These costumes typically have designs that better resemble what pirates may have actually worn during their heyday, though not many would stand up to a historian's eye. Few, if any, children's costumes use dark colors.
Cost
Single costume pieces typically cost $10-$20. Basic costumes usually run $15-$50 and higher-quality costumes are as much as $50-$100. The best costumes can cost several hundred dollars.
What are the best pirate costumes to buy?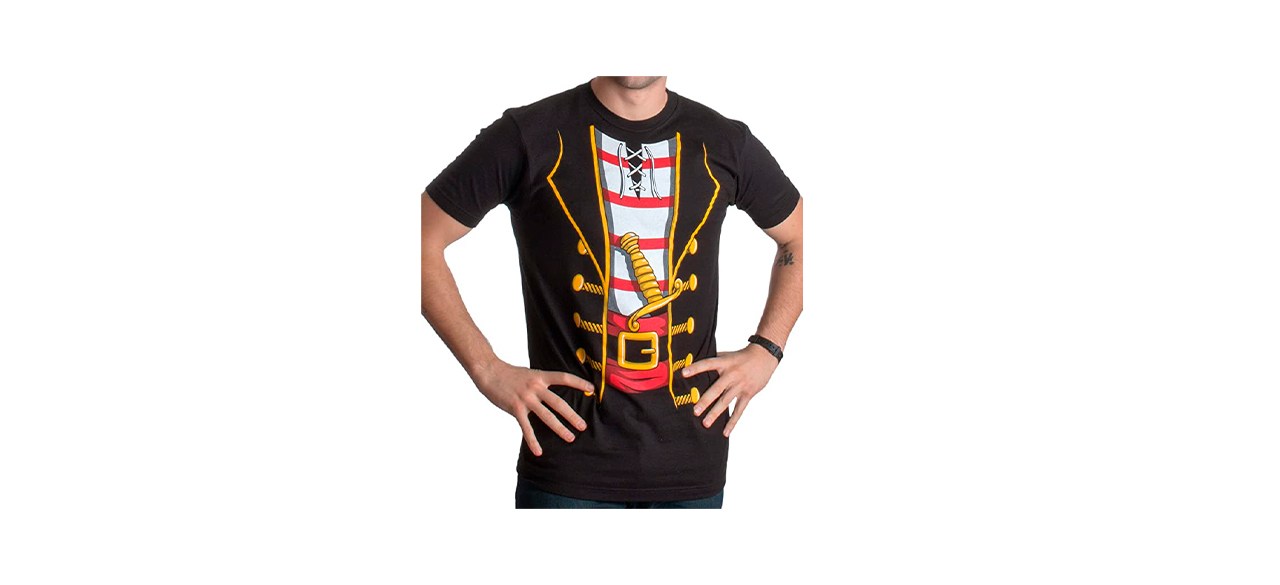 Ann Arbor T-Shirt Co. Pirate Costume
This pirate-themed T-shirt is perfect for those that don't like costumes but still need or want to get into the spirit for their upcoming Halloween events. It comes in six sizes.
Sold by Amazon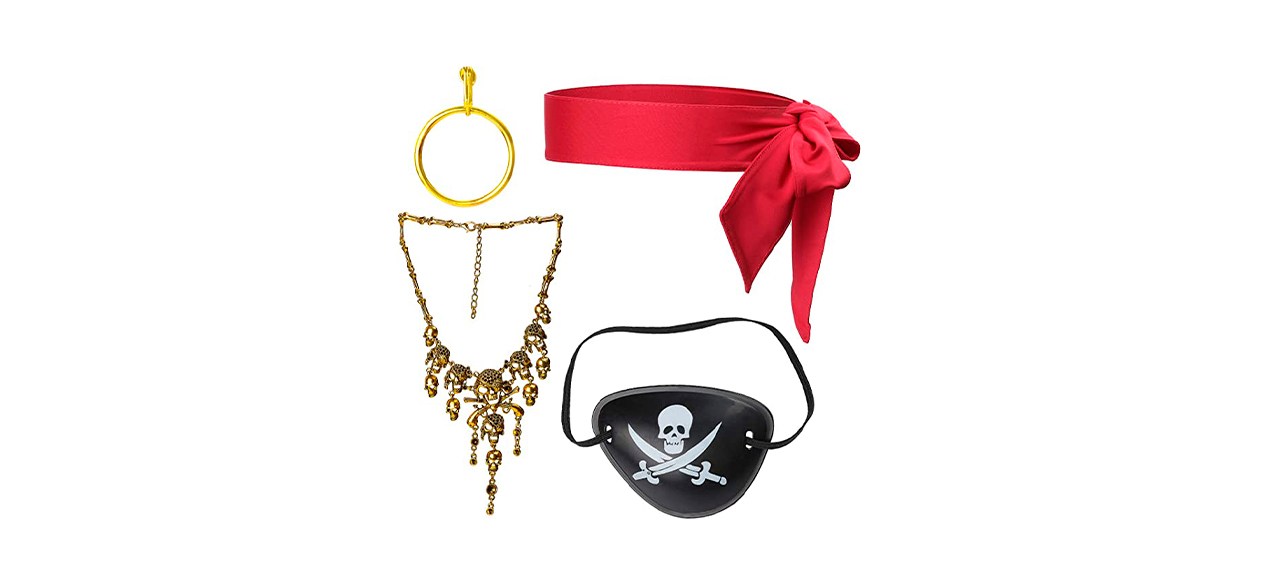 Beelittle Captain Pirate Costume Accessory Set
This set includes four pieces: a headband, an eyepatch with the jolly roger, a large clip-on hoop earring and a necklace. There are nine sets, with each having a different headband and necklace.
Sold by Amazon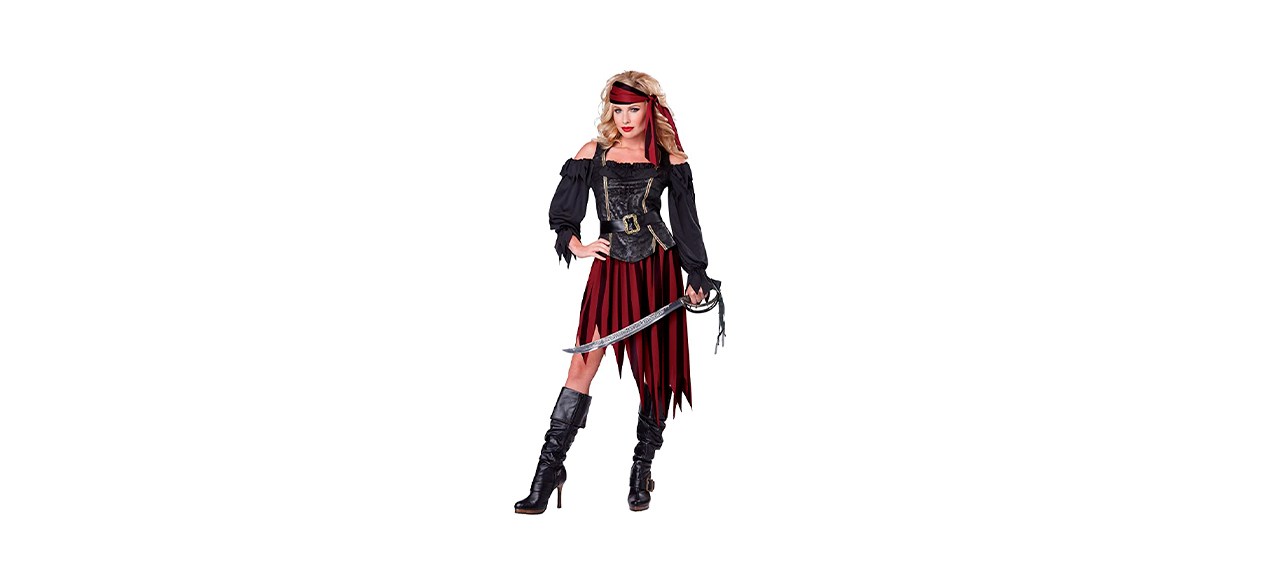 California Costumes Pirate Queen Of The High Seas Costume
This costume set includes a red and black headband and a one-piece pirate-themed dress with elastic in the shoulders, wrist, chest and waist for comfort and fit. It comes in five sizes.
Sold by Amazon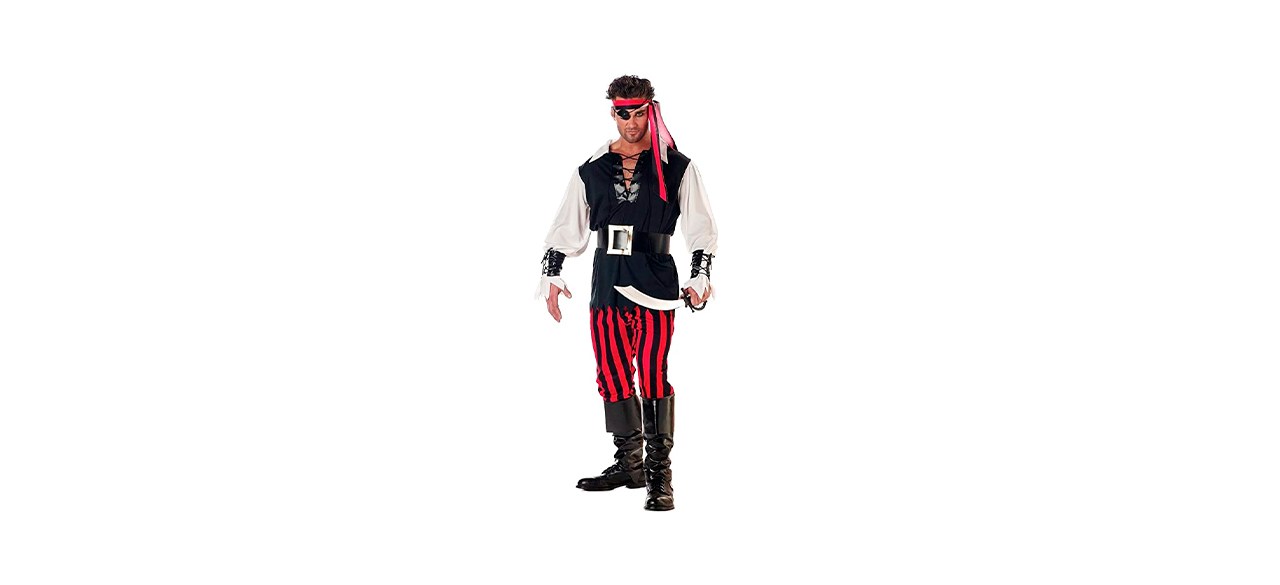 California Costumes Cutthroat Pirate Costume
This costume set comes with a black and white shirt, a large belt, red and black pants, boot tops, wrist cuffs and a headband. It comes in five sizes, from extra-small to extra-large.
Sold by Amazon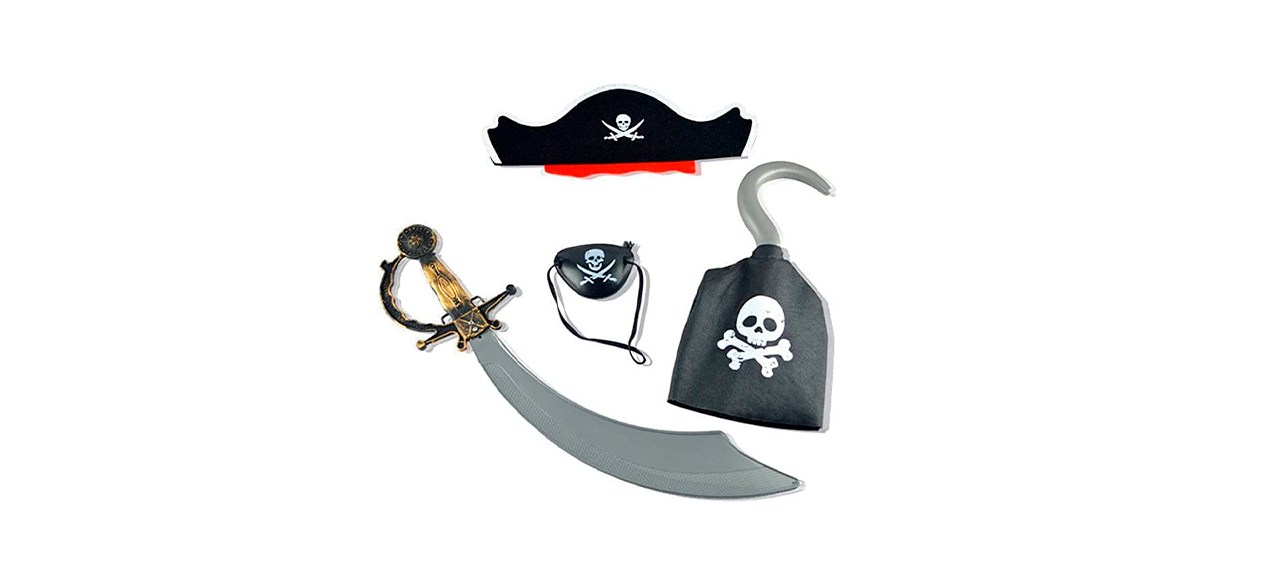 This set includes a pirate hat, an eyepatch, a hook for one hand and a sword for the other. All you need to complete the ensemble is a pair of blue jeans and a white T-shirt.
Sold by Amazon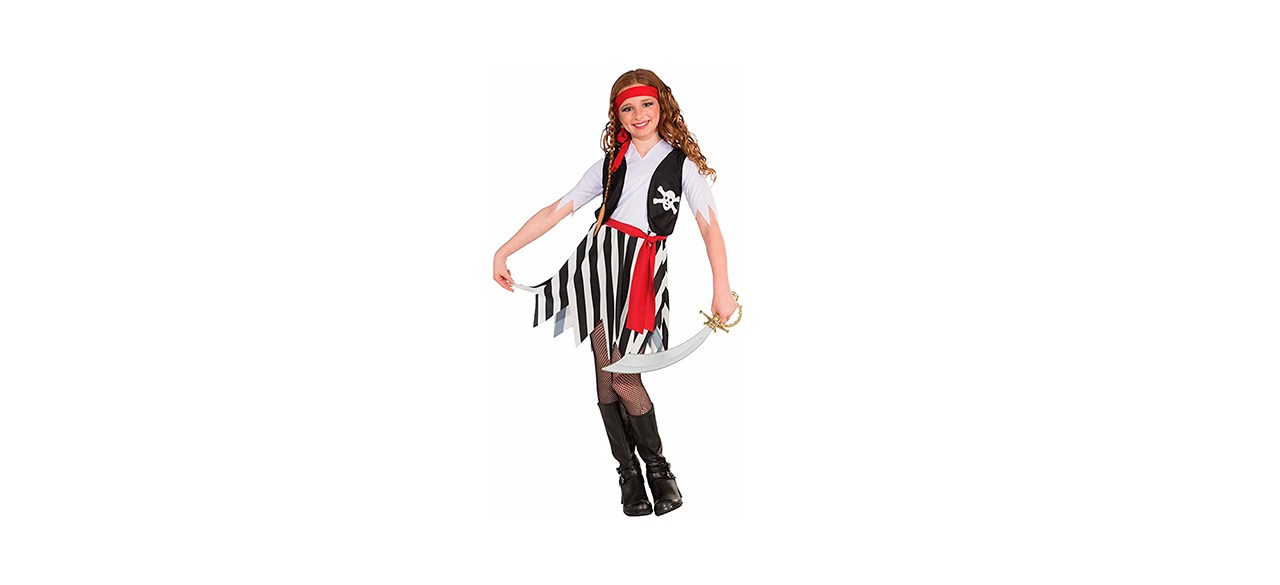 Forum Novelties Buccaneer Girl Costume
This two-piece costume for young girls includes a red headband and a dress patterned to look like you're wearing a vest. Pair it with a pirate accessory set to complete the look.
Sold by Amazon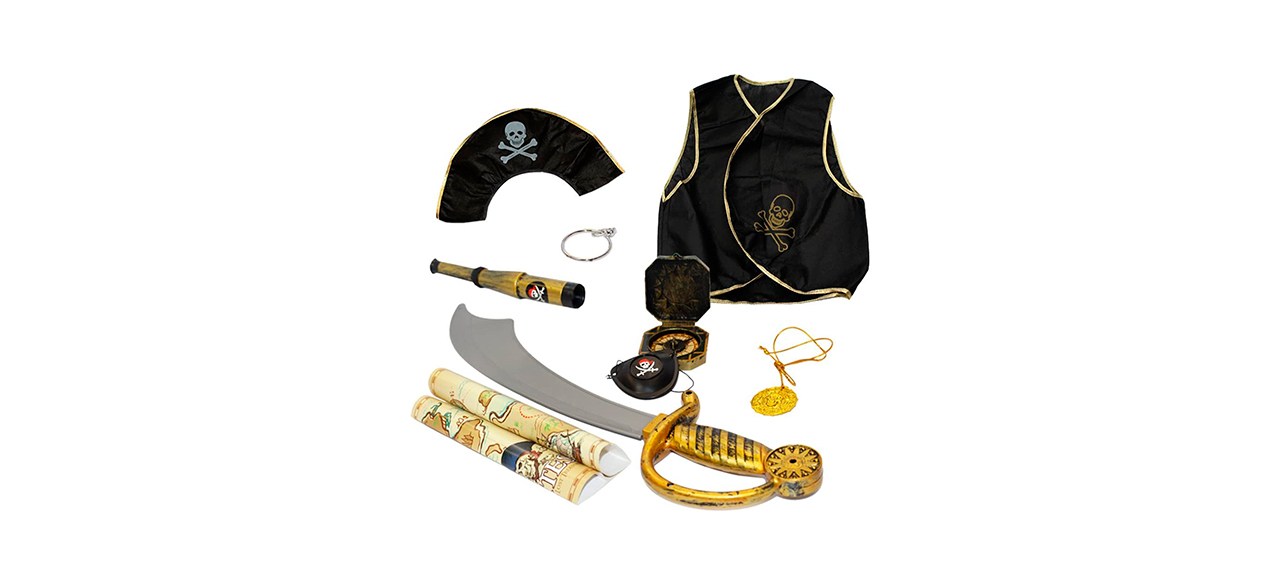 Funny Party Hats Pirate Costume for Kids
This nine-piece set includes a gold medallion necklace, a compass, an eyepatch, a sword, a treasure map, a vest, a pirate hat, a compass and a large clip-on earring.
Sold by Amazon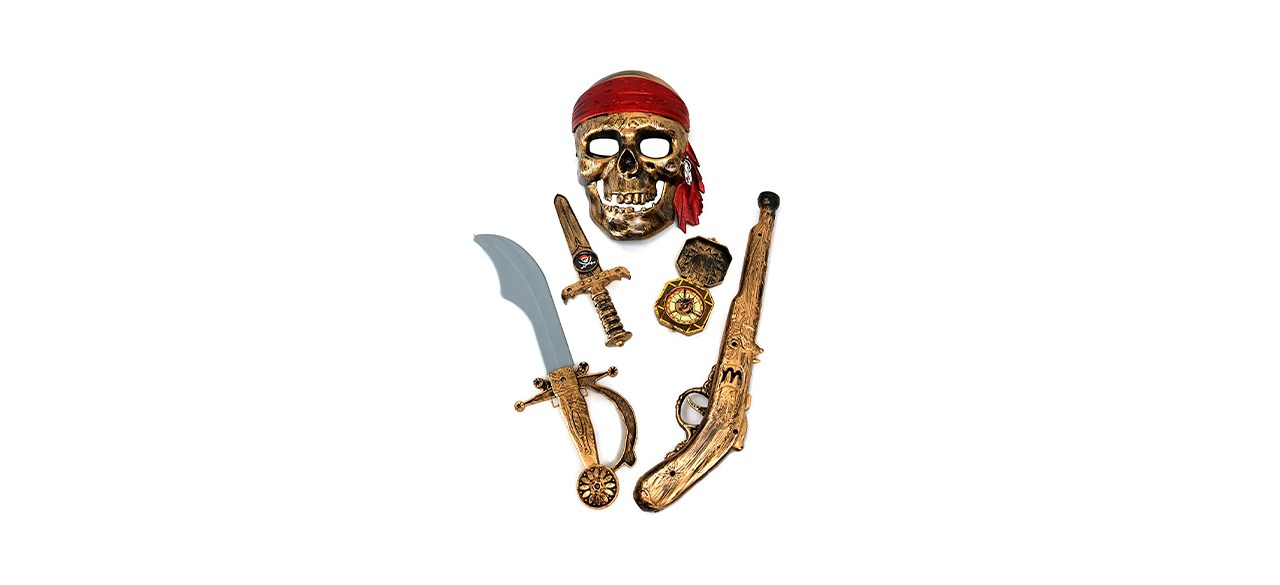 GiftExpress Pirate Costume Accessories
This five-piece set includes a pirate skull mask, a sword and dagger, a flintlock pistol and a compass. When Halloween is over, your children can continue to play with the set's pieces.
Sold by Amazon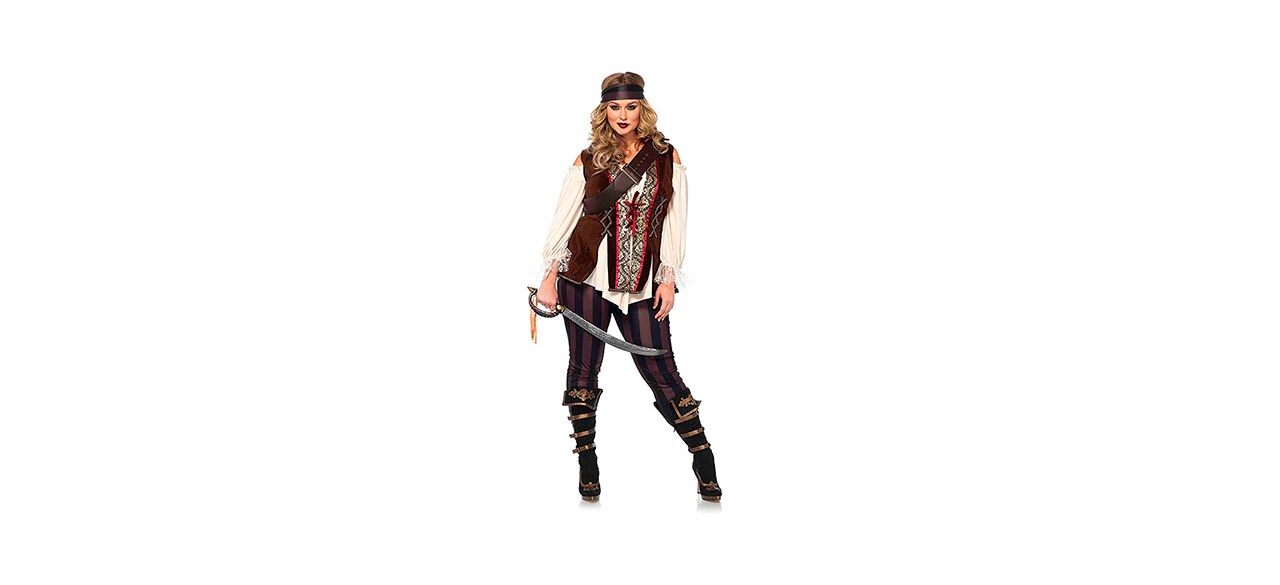 Leg Avenue Captain Blackheart Costume
Available only in sizes 1X-2X, this costume set includes a cold shoulder shirt vest, striped leggings, a cross-body strap and a headband.
Sold by Amazon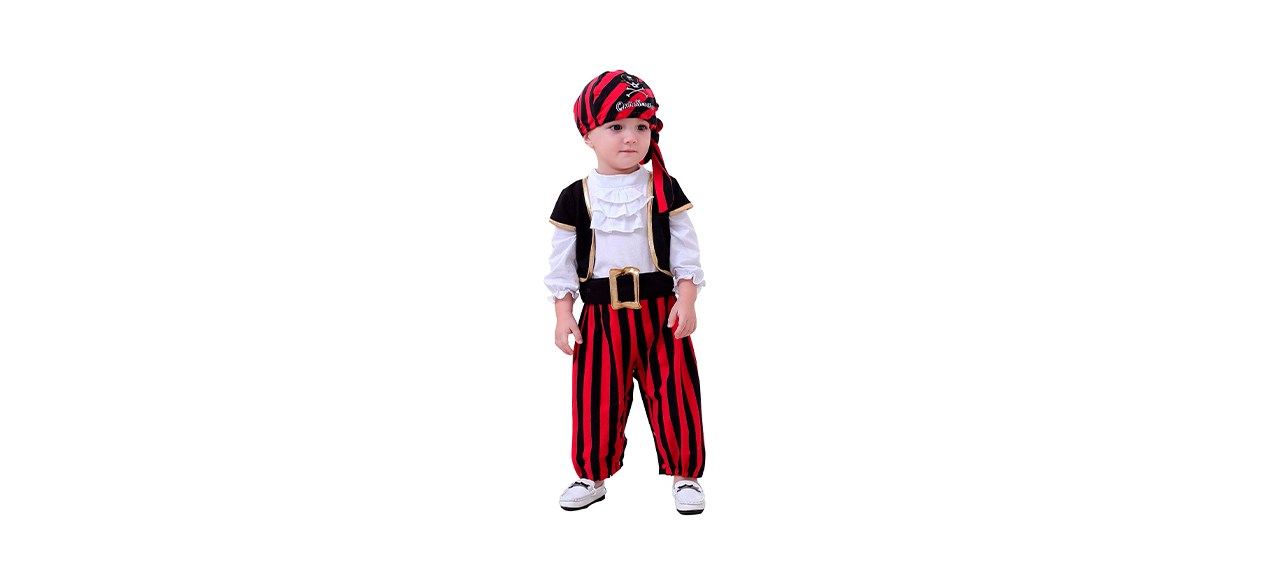 This four-piece set includes a pirate-themed onesie, a black vest with gold trim, a black belt with a large gold buckle and a skullcap. Larger sizes for older kids are also available.
Sold by Amazon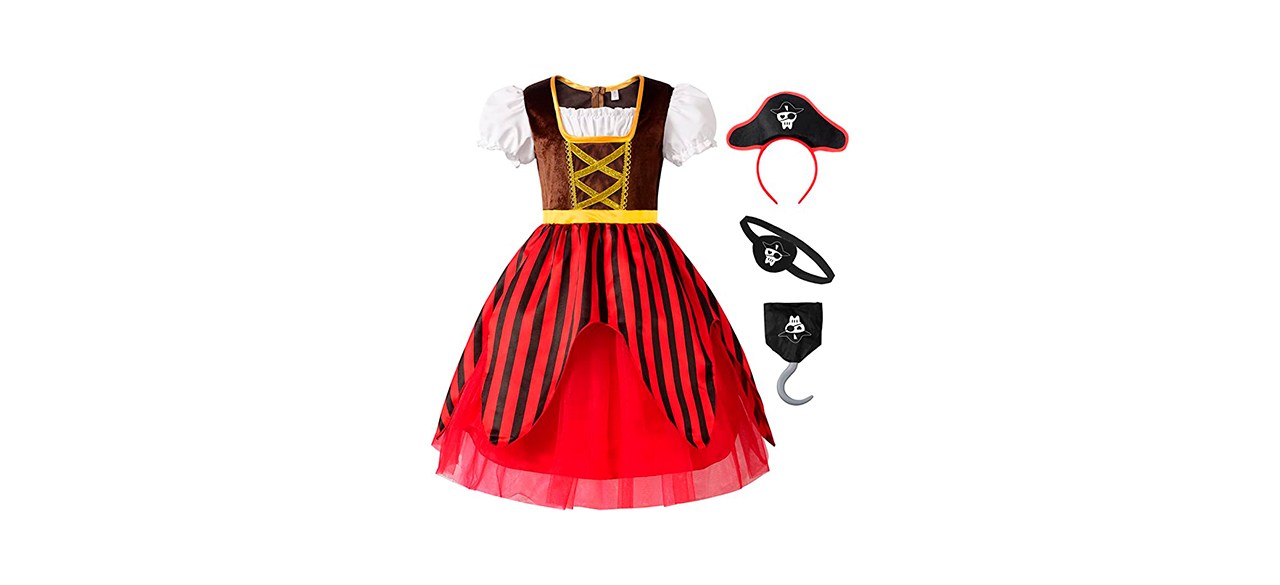 ReliBeauty Pirate Dress Sea Buccaneer Costume
This costume includes a dress with puffy shoulders, a brown and gold bodice and a striped skirt. It also includes a hook for a hand, an eyepatch and a pirate hat headband.
Sold by Amazon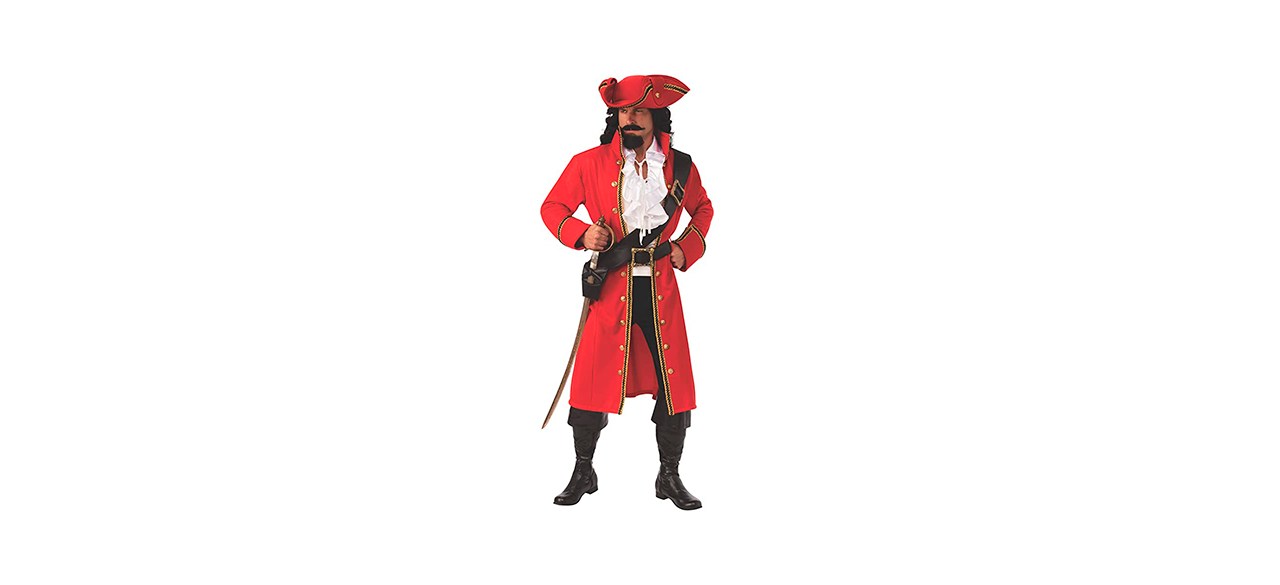 Rubie's Pirate Captain Costume
Live out your Captain Hook fantasies with this set. It comes in two sizes and includes a large knee-length red coat, pirate shirt, red tricorn hat and sword belt.
Sold by Amazon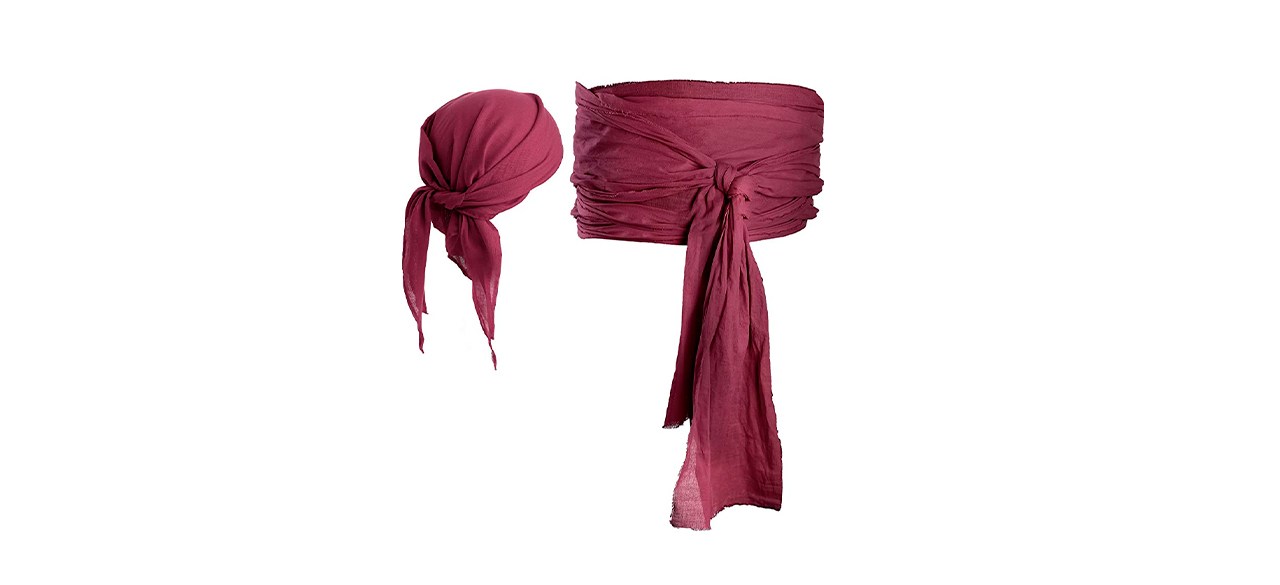 Satinior Pirate Head Scarf and Sash
Pair this head scarf and sash with another pirate costume or a T-shirt and jeans for a successful but basic pirate costume. They come in eight colors, including a black and red striped design.
Sold by Amazon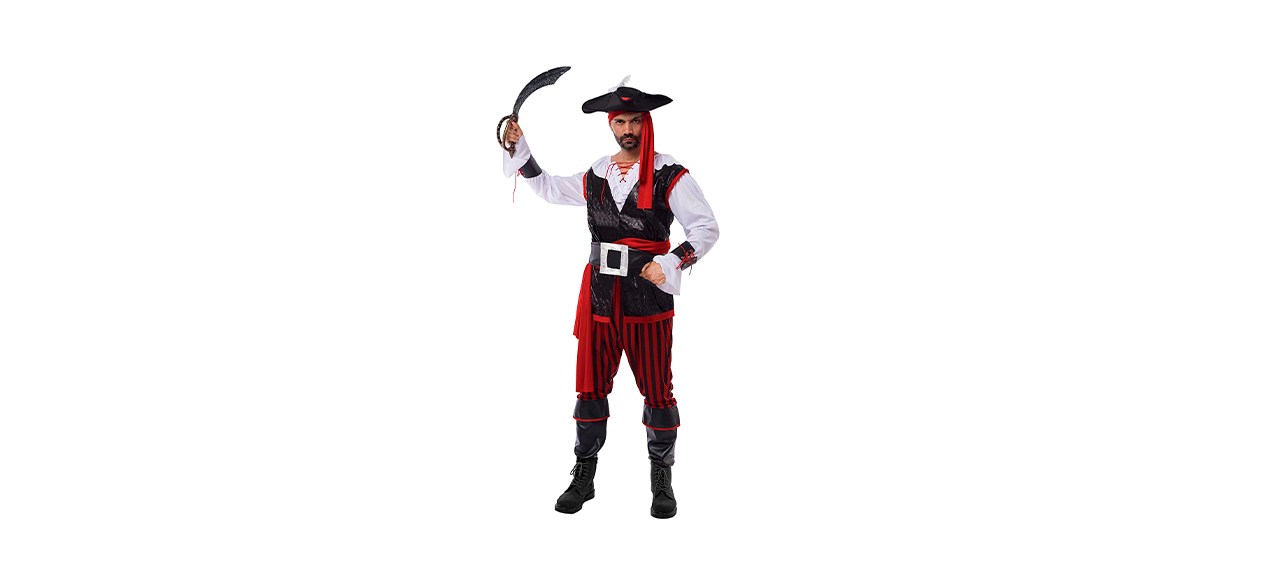 Spooktacular Creations Pirate Costume
This costume set includes a tricorn hat with a feather, a headband, a belt satchel, a white shirt with lace jabot front, a black waistcoat, elastic wrist cuffs, pants and a pair of boot covers.
Sold by Amazon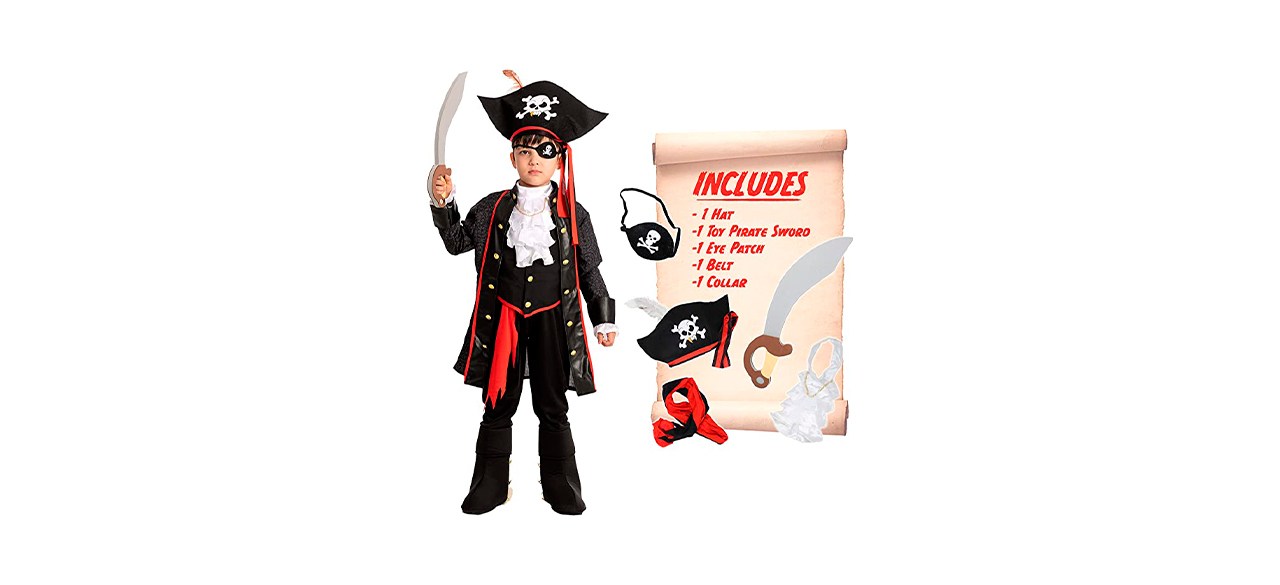 Spooktacular Creations Child Pirate Costume
This costume set includes a hat, a jacket, a vest, pants, a toy pirate sword, an eyepatch, a belt and a collar. It comes in four age ranges: 3-4, 5-7, 8-10 and 10-12 years old.
Sold by Amazon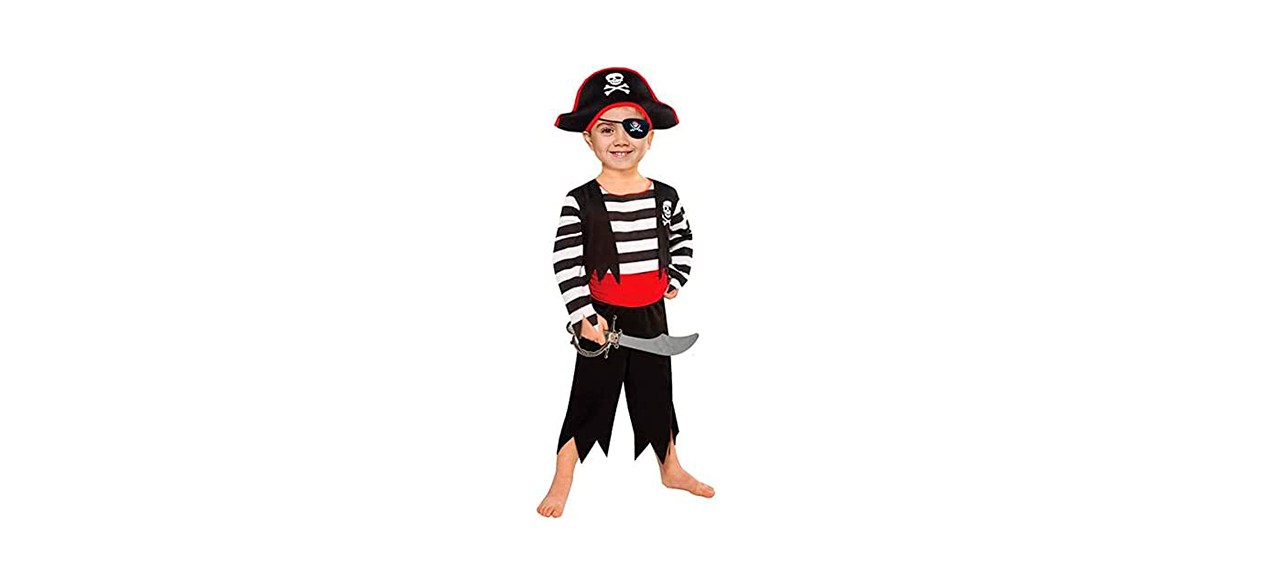 This four-piece costume includes a pirate-themed jumpsuit, a pirate hat, an eyepatch and a sword. It comes in three sizes to fit toddlers to 8-year-olds.
Sold by Amazon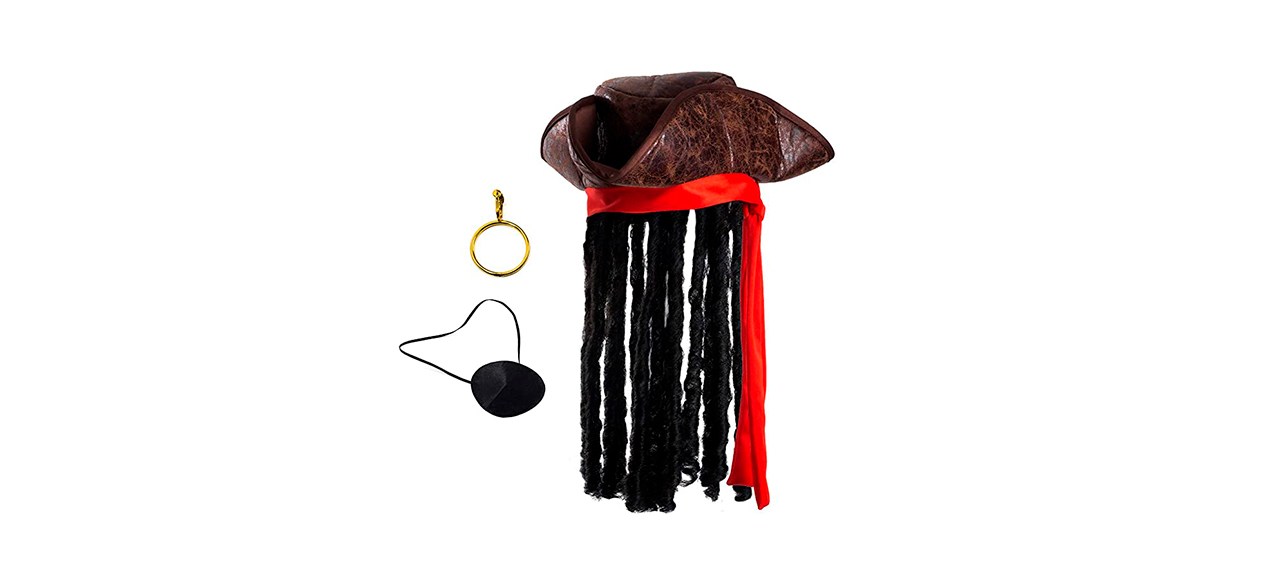 Tigerdow Pirate Costume Accessories Set
This three-piece set includes a brown tricorn hat with an attached red headband and black dreadlocks, a large clip-on gold hoop earring and an eyepatch. They can be worn with or without other pirate costumes.
Sold by Amazon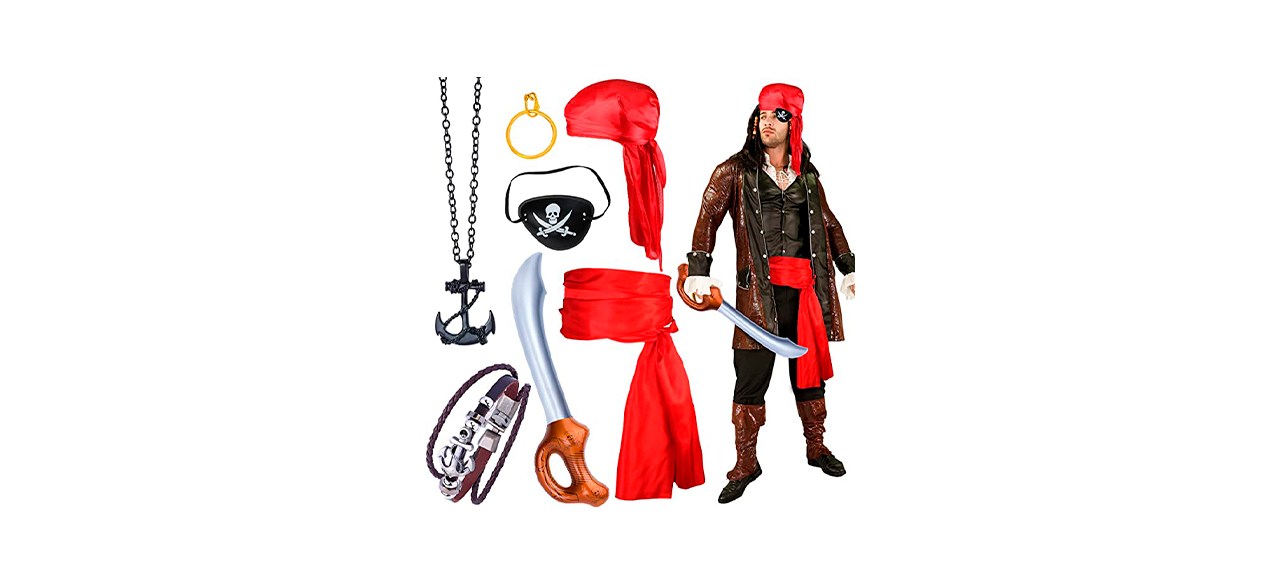 Yewong Captain Pirate Costume Accessory Set
This accessory set includes a headband and waist scarf that comes in either red, wine red, dark wine red or black. It also includes an inflatable sword, an eyepatch, a clip-on hoop earring, a necklace and a bracelet.
Sold by Amazon
Â
Want to shop the best products at the best prices? Check out Daily Deals from BestReviews.
Sign up here to receive the BestReviews weekly newsletter for useful advice on new products and noteworthy deals.
Jordan Woika writes for BestReviews. BestReviews has helped millions of consumers simplify their purchasing decisions, saving them time and money.
Copyright 2022 BestReviews, a Nexstar company. All rights reserved.