This is an archived article and the information in the article may be outdated. Please look at the time stamp on the story to see when it was last updated.
Four Sigmatic Instant Mushroom Coffee Mix review
Your morning coffee is satisfying, but is it good for you? What began as a wartime swap has evolved into a wellness trend in the form of Four Sigmatic's mushroom-fueled coffee blends.
The Finnish founders of Four Sigmatic took inspiration from their grandparents' World War II coffee substitute, chaga mushrooms, to create a healthier coffee that still tasted delicious. Four Sigmatic Instant Mushroom Coffee Mix claims to help you focus better thanks to three superfood mushrooms, while providing a convenient and tasty instant brew.
We wanted to find out if Four Sigmatic Instant Mushroom Coffee Mix tasted better than the instant coffee we're used to, so we put it to the test. Here's what we discovered.
Testing the Four Sigmatic Instant Mushroom Coffee Mix
We asked three daily coffee drinkers to give us their thoughts on Four Sigmatic Instant Mushroom coffee. One had never tried any instant coffee before, while the other two relied on it for traveling, camping or rushed mornings. Our testers received a 10-serving sample tin of Four Sigmatic Instant Mix.
What is the Four Sigmatic Instant Mushroom Coffee Mix?
Four Sigmatic coffee is inspired by the high levels of mushroom and other superfood consumption in Nordic countries. Four Sigmatic "Think" Instant Mushroom Coffee Mix contains organic chaga mushrooms, which can boost the immune system and balance the jittery effects caffeine can have. It's also made with lion's mane mushrooms and rhodiola, which can help improve focus and productivity.
Four Sigmatic coffee contains less caffeine to help prevent jitteriness and energy crashes. Each cup of Four Sigmatic mushroom coffee contains about 50 milligrams of caffeine, which is about half the amount in a standard cup of coffee. Adaptogens in the mushrooms are intended to amplify the energy we get from caffeine without its associated drawbacks.
Four Sigmatic Instant Mushroom Coffee Mix price and where to buy
Four Sigmatic Instant Mushroom Coffee Mix is available for $35 for a 30-serving canister or $15 for a 10-serving pack. Four Sigmatic is available on Amazon. It's also available as a monthly subscription on the Four Sigmatic website for a 20% discount.
How to use Four Sigmatic Instant Mushroom Coffee Mix
We tested a multi-serving tin of Four Sigmatic Instant Mushroom Coffee, which comes in a tightly sealed tin. It's made the same way you'd prepare instant coffee: Use the included scoop to measure a portion into your mug, then add hot water and stir until the coffee is dissolved. Four Sigmatic instant coffee is also available in single-serve sachets for even easier portioning.
Four Sigmatic Instant Mushroom Coffee Mix benefits
Our testers all enjoyed the taste of Four Sigmatic Instant Coffee, and all three agreed that it tasted much better than typical instant coffee and almost as good as normal brewed coffee. The mushrooms in the mix give it a subtle earthiness that doesn't taste quite the same as regular coffee, but it's not overpowering. The instant formula dissolved fully in seconds, resulting in a smooth texture similar to a standard cup of coffee.
We liked how the multi-serve Four Sigmatic Instant Coffee is packaged. The coffee comes in a 30-serving recyclable tin with an included portion scoop. It's also available in boxes of 10 single-serve packets. For more sustainability-minded consumers, Four Sigmatic is organic and the 30-serving tin is a nice eco-conscious option.
While overall we didn't notice a complete transformation in our focus or productivity, Four Sigmatic still gave us a comparable level of energy to drinking coffee. Plus, the reduced amount of caffeine from coffee makes Four Sigmatic's drink easier on the digestive system.
Four Sigmatic Instant Mushroom Coffee Mix drawbacks
While the flavor of the Four Sigmatic mix's mushrooms is subtle, it does give the coffee an earthiness that may not be to everyone's taste. The mushroom instant coffee also didn't have the same aroma as brewed or even normal instant coffee, which a couple of our testers missed.
While the instructions brew up an 8-ounce cup of coffee, it's important to maintain the ratio of water to coffee if you want a larger cup. We found that adjusting the amount of instant coffee mix for a larger cup was tricky to do without negatively affecting the flavor.
Our testers also noted that while the Four Sigmatic formula helped them feel more alert and less jittery, it didn't deliver the promised higher levels of focus. Considering its comparatively high price point, we'd hoped for a more noticeable cognition difference from Four Sigmatic.
Should you get Four Sigmatic Instant Mushroom Coffee Mix?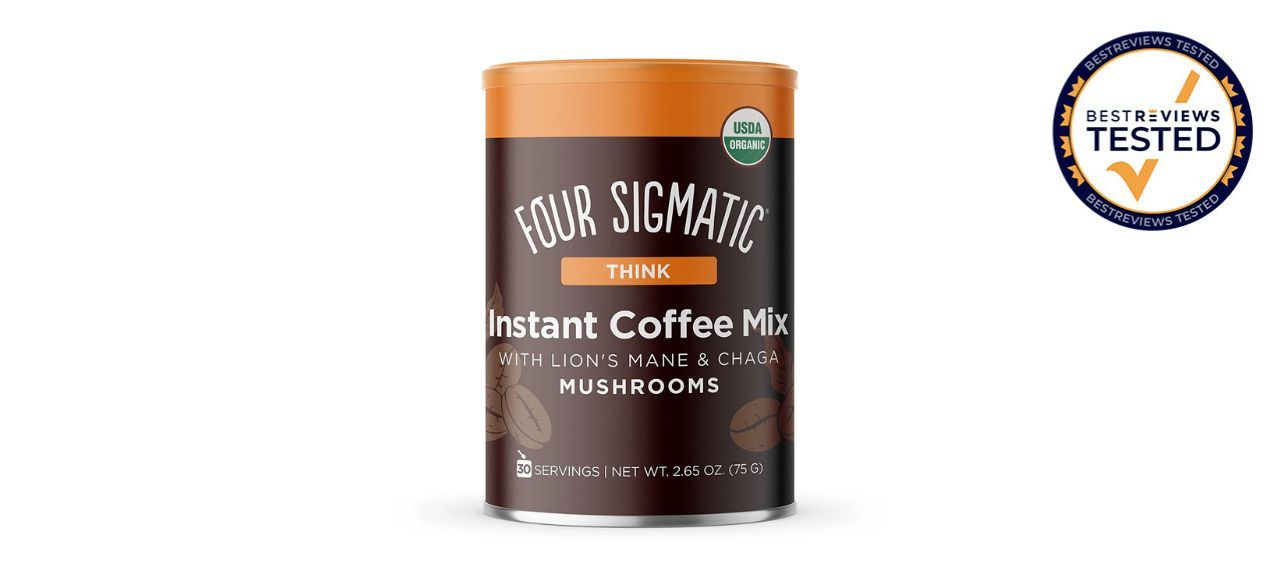 Our testers universally agreed that while Four Sigmatic Instant Mushroom Coffee wouldn't replace their everyday cup of coffee, they'd happily keep it in their pantry for hectic mornings and the formula's health benefits. For a busy coffee drinker, Four Sigmatic instant coffee is a better-tasting and more nutritious swap for standard instant coffee. It's also a great choice for anyone looking for ways to reduce their caffeine intake while still getting a boost of productive energy.
Consider other products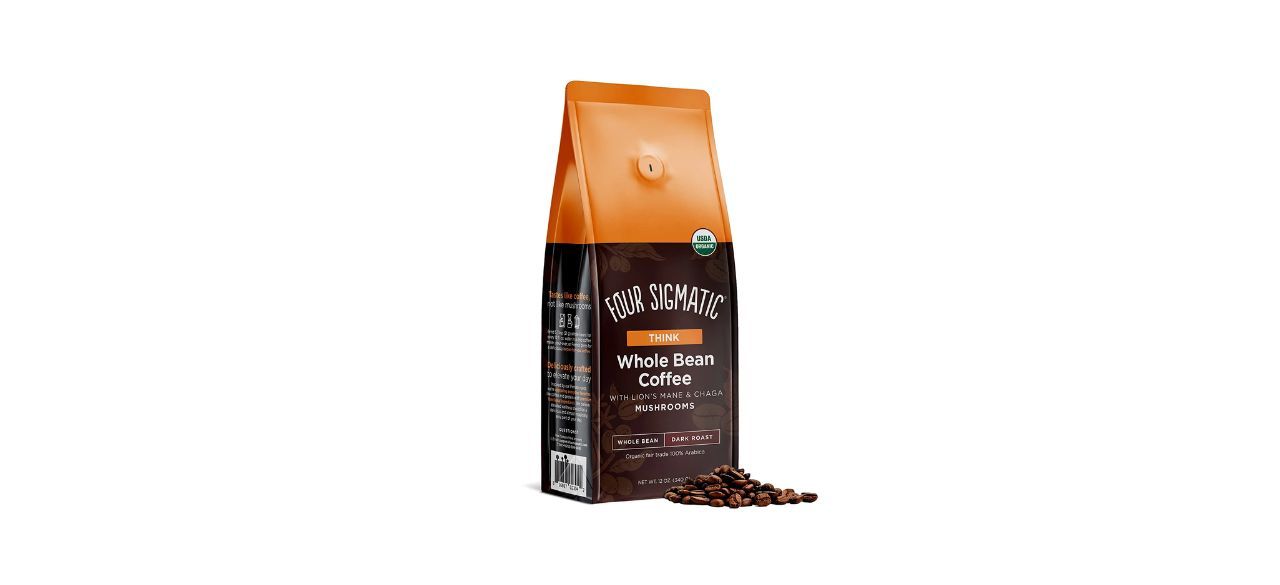 Four Sigmatic Whole Bean Coffee with Lion's Mane and Chaga Mushrooms
If you prefer the ritual and flavor of brewing your own coffee, consider this dark roast, whole-bean coffee that promises the same crash-free energy as Four Sigmatic instant coffee. Each bean is coated with lion's mane and chaga mushroom extracts.
Sold by Amazon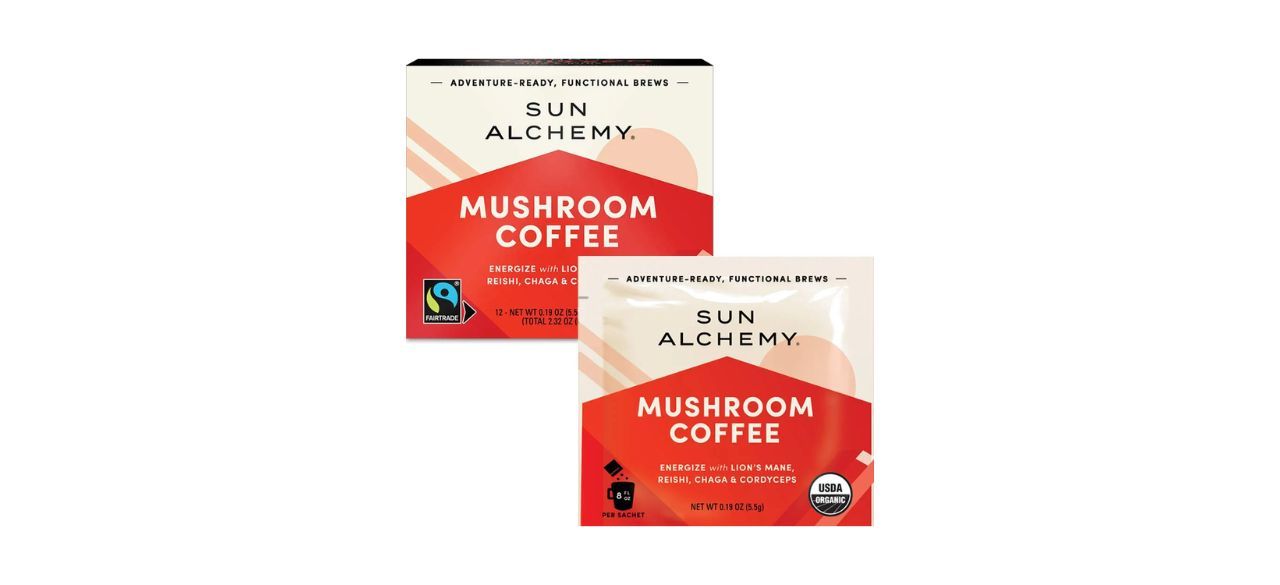 Sun Alchemy Mushroom Instant Coffee
This instant coffee contains lion's mane, reishi, chaga and cordyceps mushrooms for cognitive and mood support and balanced energy levels. Each sachet contains 110 milligrams of caffeine, as much as a standard cup of coffee.
Sold by Amazon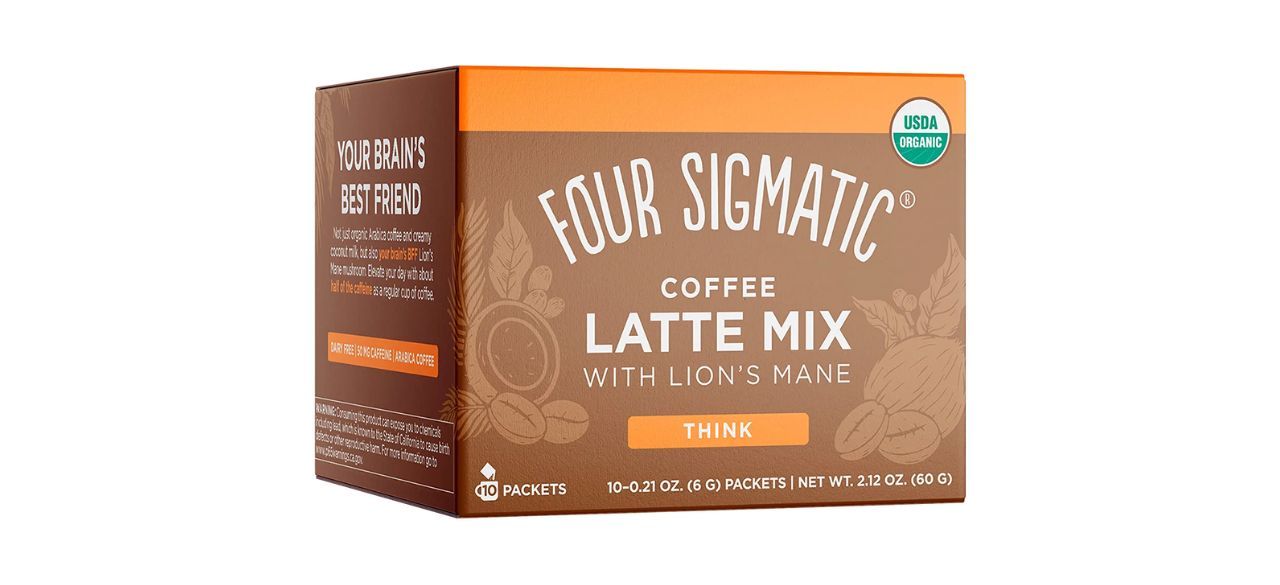 Four Sigmatic Mushroom Coffee Latte Mix
For an even easier drinking experience, try this instant latte, which includes stevia and organic lucuma for sweetness. Maitake, chaga and lion's mane mushrooms supply antioxidants and can help balance the digestive system.
Sold by Amazon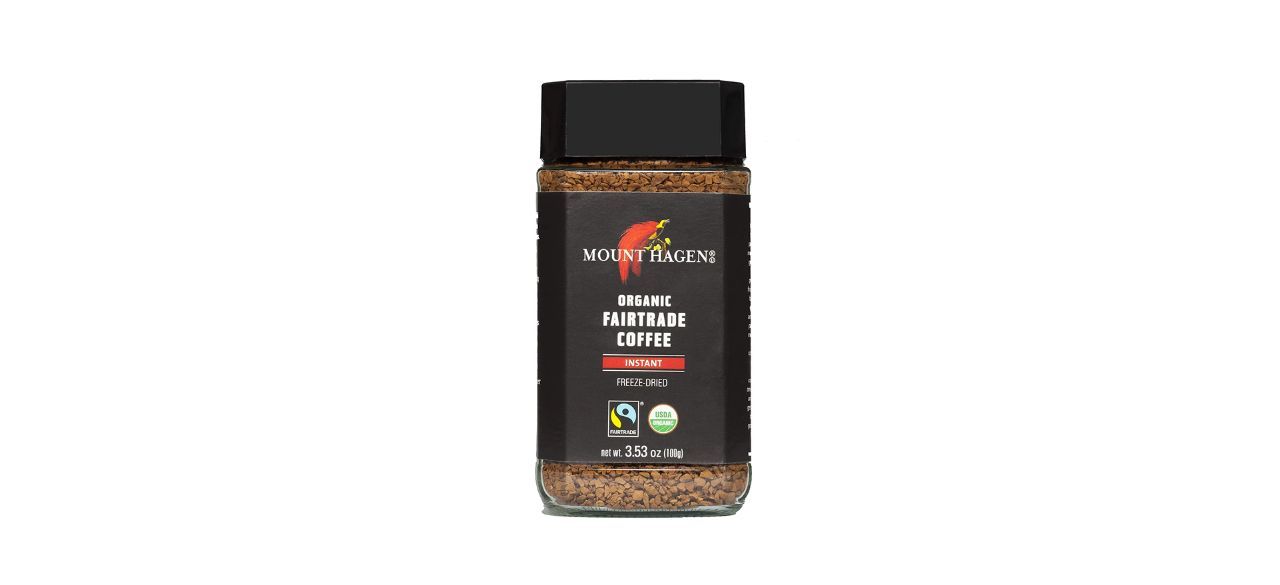 Mount Hagen Organic Instant Coffee
If you're skeptical of both mushroom coffee and instant coffee, consider this organic and fair-trade instant coffee. It has a smooth, full-bodied taste and is convenient for camping, travel and more.
Sold by Amazon
Want to shop the best products at the best prices? Check out Daily Deals from BestReviews.
Sign up here to receive the BestReviews weekly newsletter for useful advice on new products and noteworthy deals.
Laura Duerr writes for BestReviews. BestReviews has helped millions of consumers simplify their purchasing decisions, saving them time and money.
Copyright 2023 BestReviews, a Nexstar company. All rights reserved.