This is an archived article and the information in the article may be outdated. Please look at the time stamp on the story to see when it was last updated.
BENSALEM, PA – You've most likely seen the iconic clickity-clackity, loud departure board in the middle of 30th street station.
Well, the technology behind that sign is outdated; so a group of former Drexel engineering students set out to fix that problem and their company, Oat Foundry, was born in 2014.
At the Oat Foundry factory in bensalem, a determined, young, intelligent team of six engineers, all co-fouders, "build cool stuff." CEO of Oat Foundry, Mark Khun, said, "We literally made it our slogan. We all went to Drexel for mechanical engineering. We graduated and 10 days later we had an LLC., and the month after that we had a shop space and then we've been building things for clients ever since."
Kuhn says their signature product is their split flap display board. "The way they work is by showing the letters and numbers on a wheel of flaps that go, 'Tick, tick, tick, tick.' They're famous from old airports and train stations."
Inside Philadelphia's 30th street station, their iconic Solari board is on its way out. It was designed in Italy in the 1970s or 80s and is one of the most recognizable departure signs in the country, according to some…but it's outdated, and it takes four computers operating Windows 95 to run it.
Amtrak says they're working to replace it with a digital model, but there's currently no timeline of when it will happen.
But because the Solari board and others like it are so unique and eye catching, the team at Oat Foundry set out to make them modern again.
The boards are all assembled at their factory off State Road in Bensalem. They use screen printed, dye-cut plastic for the numbers and letters. Those number and letter are then individually attached to small plastic carousels made at their factory. After attaching them together, the completed wheel is put inside a module with a motor. The completed module with all its letters, numbers, and special characters gets attached to an Oat Foundry split-flap board.
Kuhn says the larger boards have as many parts as a small automobile. The process takes about 8-10 weeks from the time you order, until the display boards are out the door.
Right now the team at Out Foundry says they mostly design mid-to-larger custom signs for businesses.
They've made signs for everything from Wrigley Field, to 20 Honeygrow restaurants around the country.
"We fit any kind of commercial budget, but they're thousands to…we've sold them for hundreds of thousands," explained Kuhn.
"Out Foundry has just been growing year on year since we started. Every split-flap has been made here and you can see that our shop is burgeoning and we are rapidly growing out of room. So the next steps for us will be finding a bigger shop and continuing to grow!"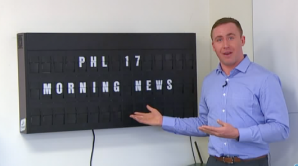 Recognize this kind of sign? Probably…The huge departure board at 30th Street Station is very similar. But that old one is getting replaced soon. Tmrw AM on @phl17 I'll introduce to you a team of engineers from Bensalem's @OatFoundry who make new, split-flap signs! Very cool! pic.twitter.com/Im07NlEhF3

— Matt Alba (@mattalbamedia) February 21, 2018