This is an archived article and the information in the article may be outdated. Please look at the time stamp on the story to see when it was last updated.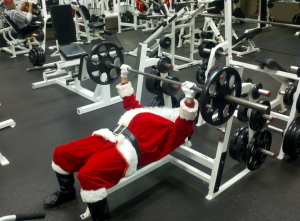 PHILADELPHIA, PA – How do I lose weight during the holidays? Us reporters at PHL17 Morning News don't really know the answer to that, so we asked the experts.
PHL17 reporter, Matt Alba, is on a journey to lose weight, during the most wonderful time of the year. ♪ ♫ ♬
It may seem like a daunting task, but with the help of a local crossfit gym and an online nutritionist, his journey began this week.  Matt wants to avoid the dreaded, post-huge-meal-holiday-gut; and he wants to help PHL17 Morning News viewers avoid it too!
Britney Kennedy is a nutritionist with On-Point Nutrition and will be coaching Matt via an online Skype call, once a week, for the next 10 weeks.
Matt will be attending crossfit classes at Crossfit Royalty in Trooper, PA.
While this is an ongoing post, and story, we want to share some health tips to get you started!
Healthy Eating Through the Holidays – The do's and don'ts
Approaching the next few weeks with a game plan will be the key determinant of your nutrition and weight management success.  With a plan comes organization, and with organization comes success.   Managing your weight may seem nearly impossible during the holidays.  During your Thanksgiving, Christmas, Hanukkah, Kwanzaa and New Year's celebrations, savory food and delicious drink will greet you at many restaurants, dinner tables and cocktail hours.  We have complied a few key strategies to help you combat these temptations, eat tasty food, and give your body the nutrients it needs to move toward or maintain a healthy weight.
Never go to your party hungry.  Eat something before you go:
Walking into a holiday get-together on an empty stomach is a recipe (pun intended) for disaster.  "Saving all of your calories" for one big event leaves you wanting more when the time to eat actually arrives.  We tend to make poor nutrition choices when we are extremely hungry becuase we think with our stomach instead of our brain.
Bring a healthy dish to share:
When preparing for a function, plan to arrive with a nutritious dish to ensure that you have a few options to choose from.  Great dishes include shrimp cocktail, veggie tray with healthy dip, chicken kabobs, fruit and low fat cheese, and reduced sodium mixed nuts.
Survey your options.  Browse all of the food before filling your plate:
When you are presented with table after table of crockpot dishes, casseroles, pasta, and sweets, take a good look at everything before building your plate.  When constructing your plate, focus on keeping 75% protein (chicken, fish, turkey, lean beef) and vegetables.  The remaining 25% should consist of starches.
Alcohol acts as a depressant in our bodies and slows the metabolism.  Knowing this fact, it is best to decrease the amount of excess calories, carbohydrates, and sugar present in most holiday beverages.  Alcoholic drinks have approximately the following calories:
Champagne: ~85 calories per 4-ounce serving
White wine:  ~120 per 5-ounce serving
Red wine: ~125 calories per 5 ounces.  
12-ounce light beer: ~100 calories
12-ounce regular beer: ~155 calories
1.5-ounce serving of 80-proof liquor: ~97 calories.
Adding mixers to your liquor to create cocktails can make your beverage much higher in calories, sugar and carbohydrates.  When choosing mixers, steer clear of sodas and juice.  Instead, choose soda water, water, diet tonic, and diet soda