This is an archived article and the information in the article may be outdated. Please look at the time stamp on the story to see when it was last updated.
Add it to the list, Philadelphia is having another victory parade, thanks to Villanova! The Wildcats will parade down the streets of Center City Philadelphia to celebrate their second NCAA National Championship win in three years. The Wildcat's 2018 parade will be similar to the 2016 parade which drew thousands and ended at City Hall.
The Villanova National Championship Parade will take place on Thursday, April 5th, with a parade on Market Street at 11 a.m. and a rally at Dilworth Park. The City estimates the rally will begin around 11:45 a.m. and finish around 12:30 p.m.
Villanova University will be closed Thursday so students and staff can attend the parade.
Expect delays in Center City for this event as the City of Philadelphia and SEPTA have released their plans for the parade, listed below.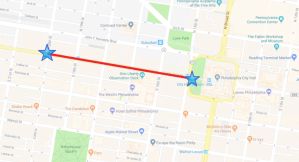 CITY OF PHILADELPHIA:
Road Closures
Parade elements will assemble on 2000-2900 Market Street beginning at 9:30AM.  The parade will commence at 11:00AM.  The parade will start at 20th & Market Streets and proceed eastbound on Market Street to 15th Street, southbound on 15th Street to South Penn Square, eastbound on South Penn Square, terminating on South Penn Square west of Broad Street.  The rally portion of the event will commence at 11:45AM, and the event is scheduled to conclude at 12:30PM.
The following streets will be closed starting at 9:30AM until approximately 12:00PM on Thursday, April 5th:
2000-2900 Market Street

Cross traffic will not be permitted during this timeframe
The following streets will be closed starting at 10:00AM until approximately 1:00PM on Thursday, April 5th:
1600-1900 Market Street
16th Street from JFK Blvd. to Chestnut Street
17th Street from JFK Blvd. to Chestnut Street
18th Street from JFK Blvd. to Chestnut Street
19th Street from JFK Blvd. to Chestnut Street
20th Street from JFK Blvd. to Chestnut Street
The following streets will be closed starting at 10:00AM until approximately 3:00PM on Thursday, April 5th:
1500 Market Street
15th Street from Race Street to Chestnut Street
S. Penn Square from 15th Street to Broad Street
All affected streets will be serviced and reopened as the march progresses.  Additional closures and lane restrictions may be necessary in the interest of public safety.  Motorists are advised to use caution and obey instructions of the Philadelphia Police Department.
Parking Restrictions
The following streets will be posted as "Temporary No Parking" zones from 6:00AM-4:00PM on Thursday, April 5th:
1400 JFK Blvd. (South Side)
1500-1600 JFK Blvd. (Both Sides)
1700 JFK Blvd. (Both Sides)
1500-2900 Market Street (Both Sides)
15th Street from Chestnut Street to Arch Street (Both Sides)
S. Penn Square from 15th Street to Broad Street (South Side)
Please obey all "Temporary No Parking" signs.  Vehicles parked in these locations during posted hours will be relocated.
Public Transportation
Due to related street closures, SEPTA Bus Routes will be detoured from their normal routes through the area beginning at 9:00AM on Thursday, April 5th through approximately 3:00PM.  Detours will be posted and specific route changes will be made available on the System Status Page at www.septa.org.
Stairs and elevators to Dilworth Park from the underground concourse will be closed on Thursday, April 5th beginning at 9:00AM and reopened as conditions allow.
Public Safety Information
Leave no bags or items unattended.  In an emergency or to report a suspicious person, activity or item (a backpack, a package, a container), notify a police officer immediately or call 9-1-1.  Do not try to open, move, cover or touch a suspicious item.
The public should expect congestion in the area.  If you are attending the event, make a plan regarding driving, public transit, parking, and supervision of children.  It is recommended that attendees wear comfortable, weather-appropriate attire.
All locations referenced above and the surrounding area is designated as a "No-Drone Zone".  Unmanned Aircraft Systems (UAS) and drones of any kind are not permitted.
For tips and general information about being prepared and ready at special events, read the Special Event Safety Guide before you attend.
SEPTA:
Extra capacity will be added to SEPTA's Norristown High Speed Line (NHSL), Market-Frankford Line (MFL) and Broad Street Line (BSL). The NHSL provides service from the Villanova University area with stops at Radnor and Villanova Stations (Please note Stadium Station is currently closed for renovations). NHSL passengers can transfer to the MFL at 69th Street Transportation Center to continue the trip to Center City.
Regional Rail is also an option for fans traveling to the parade, as SEPTA's Paoli/Thorndale Line serves stations in Radnor, Villanova and Rosemont . Paoli/Thorndale Line trains operate approximately every 30 minutes. Schedule details are available at www.septa.org/schedules/rail/index.html.
Parade routing will impact SEPTA service through Center City. Bus Routes 2, 4, 7, 16, 17, 27, 31, 32, 33, 38, 44, 48, 62, 124 and 125 will be detoured around City Hall and Dilworth Park from approximately 9 a.m. -3 p.m. on Thursday. Complete detour information will be posted in the System Status section of www.septa.org.
SEPTA's 15th Street MFL stations and the City Hall BSL station are scheduled to remain open during the parade; however, if conditions become overcrowded, those stations will be bypassed. Passengers should use 13th Street MFL and Walnut-Locust BSL stations in the event 15th and City Hall Stations are closed. Train announcements will be made and SEPTA personnel will be on-hand to direct passengers to the parade route. Passengers for Trolley Routes 10, 11, 13, 34 and 36 should look for service announcements regarding possible station closures.
SEPTA reminds all regular passengers that the commute, especially on the Paoli/Thorndale Line and NHSL, could be extremely heavy. SEPTA urges those using its trains, buses and trolleys for the parade to purchase their tickets and passes in advance. Details on all SEPTA fare options are available at www.septa.org/fares/.
SEPTA employee ambassadors wearing red jackets will be available at Center City and Villanova-area stations to assist travelers before and after the parade. For complete service updates and detours, as well as schedules, station maps and fare information, visit www.septa.org, call 215-580-7800, or follow SEPTA on Twitter at @SEPTA and @SEPTA_Social.