This is an archived article and the information in the article may be outdated. Please look at the time stamp on the story to see when it was last updated.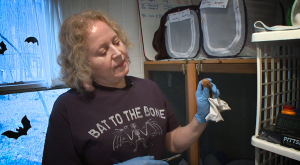 Deb Welter:
"I think that face is just adorable."
"When people think of bats this is what they think of something like this big. This is not what we get. Typically what we get in this area is something this size you know really small."
"I started volunteering at the Schuylkill Wildlife Rehab which is in Roxborough in 1998."
"Since then I've been doing wildlife rehab as a full time career and what I've decided to specialize in, since we do it in our house, I'm specializing strictly in bats."
"I've got eight bats here that I am over wintering I got the first one around Thanksgiving and most of them are big brown bats I have one red bat that I just got this week."
"Most of the time people find bats when they're going up in their attic to get out Christmas decorations or put them back in and suddenly they've got a bat flying around in their house."
"If it''s summertime or it's spring you know when it's really nice and warm or early fall, open all the windows in that room take out the screens, do what ever you do, bats don't want to be in your house, don't ever try handling wild animals with your bare hands."
"In Pennsylvania, there's only eleven people that take bats, there's a website pawr.com which is Pennsylvania Association of Wildlife Rehabilitators. That gives you the complete list of wildlife rehabbers in the entire state."
"If you have a bat, there's a designation called RVS next to that, we're the only people that are allowed to take bats. I've got a website www.diamondrockwildlife.org."
"I'm gonna be there if I can help an animal not to suffer, I want them to bring it here."
"I'm so happy to be able to spend my life helping animals."
FOR MORE INFORMATION ON WILDLIFE REHABILITATION CLINICS IN PENNSYLVANIA GO TO: PAWR.COM
FOR MORE INFORMATION ON DIAMOND ROCK WILDLIFE REHABILITATION CENTER GO TO: DIAMONDROCKWILDLIFE.ORG