This is an archived article and the information in the article may be outdated. Please look at the time stamp on the story to see when it was last updated.
On Monday morning, fire crews battled a massive fire at an apartment building located at 63rd and Jefferson Streets. Crews spent hours spraying down the flames.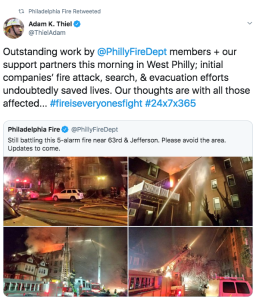 According to officials, two firefighters suffered minor injuries and almost 60 people were displaced by the fire. The cold weather posed some difficulty to firefighters.
Officials with PECO shut off electricity to the surrounding blocks.
A shelter has been set up for displaced residents. The American Red Cross and Salvation Army are also assisting residents.
PHL17's Khiree Stewart was on the scene.