This is an archived article and the information in the article may be outdated. Please look at the time stamp on the story to see when it was last updated.
"I think from a soldier's standpoint, when we get back there's so many things that's going on… that we need to find some kind of peace," says Terrence E. Evans, who returned from his last tour in Iraq in 2009. Shortly after his return he began the horse therapy program at Thorncroft Equestrian Center in Malvern, PA.
Thorncroft's program, Horses for Heroes, is a therapeutic riding program that provides service members a physical and emotional recovery once they return home. Thorncroft Equestrian Center is a privately funded nonprofit organization that relies solely on donations.  The program is available to all veterans at no cost and is made possible through a partnership with the Philadelphia Red Cross.  You can sign up for through your local VA office, the Red Cross, or by reaching out to the Center.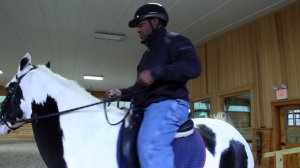 Tune into Eye Opener weekdays from 6 to 8 a.m. and be sure to follow us on Twitter @EyeOpenerPhilly!