This is an archived article and the information in the article may be outdated. Please look at the time stamp on the story to see when it was last updated.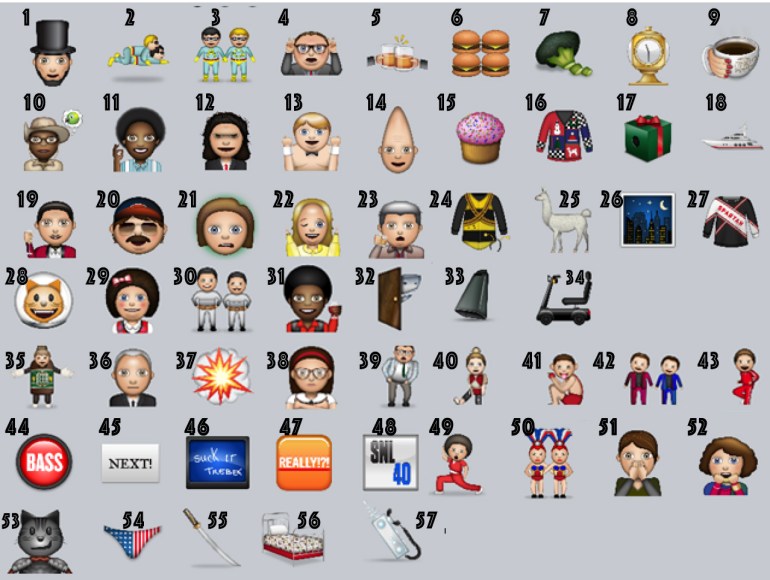 To commemorate the 40th anniversary of the show, Saturday Night Live has a brand  App.  You can get clips from all 40 years, bonus footage, other goodies and most of all, SNL emoji! (Download here.)  We consulted a team of 25 "SNLHeads" to decipher the new emoji.  Here is what, we, think, is the meaning of each SNL emoji.
 
1. Abe Lincoln – Recurring backstage character
2. and 3. Ace and Gary
Watch HERE
 
4.Bennet Brauer
Watch HERE
 
5. Tales of BILL BRASKEY!
Watch HERE
 
6. The Olympia Restaurant (Cheezborger)
Watch HERE
 
7. Derek Stevens' Comeback: Choppin' Broccoli
Watch HERE
 
8. Alarm Clocks and More
Watch HERE
 
 9. Coffee Talk
Watch HERE
 
 10. Brian Fellow's Safari Planet
Watch HERE
 
11. Buckwheat
Watch HERE
 
 12. KeyRock the Unfrozen Cave Man Lawyer
Watch HERE
 
 13. Chippendales Audition
Watch HERE
 
 14. The ConeheadsWatch HERE
 

15. Lazy Sunday

Watch HERE
 
 16. NPR's The Delicious Dish
Watch HERE
 
 17. D*** in a Box
Watch HERE
 
 18. I'm on a Boat
Watch HERE
 
 19. The Continental
Watch HERE
 
 20. Bill Swerski's Super Fans
Watch HERE
 
 21. Debbie Downer
Watch HERE
 
 22. Doooneese of The Maharelle Sisters

Watch HERE

 
 23. Drunk Uncle
Watch HERE
 
 24. The Killer Bees
Watch HERE
 
 

25. Llama- Recurring backstage character

 
 26. Saturday night
 
 27. Spartan Cheerleaders
Watch HERE
 
 28. Laser Cats
Watch HERE
 
 29. Gilly
Watch HERE
 
 30.

Pumping Up with Hans and Franz


Watch HERE
 
 31. The Ladies' Man
Watch HERE
 
32. Land Shark: Jaws II
Watch HERE
 
 33. More Cowbell
Watch HERE
 
34. Jeffrey's
Watch HERE
 
 35. Bring It On Down to Liquorville
Watch HERE
 
 36. Lorne Michaels (creator of SNL)
Watch HERE
 
37. MacGruber
Watch HERE
 
 38. Mary Katherine Gallagher
Watch HERE
 
 39. Matt Foley
Watch HERE
 
 40.

sloppy swish skit with taran killem and Anne Hathaway

 41. Mr. Peepers
Watch HERE
 

42. A Night at the Roxbury
Watch HERE
 
 43. What's Up With That?
Watch HERE
 44. Bass-O-Matic
Watch HERE
 
 45. Judge Judy?

 
 46. Celebrity Jeopardy!
Watch HERE
 
 47. Weekend Update: Really!?!
Watch HERE
 
 48. Logo

 
49. Sally O'Malley
Watch HERE
 
 50. Showgirls – Recurring backstage character
 
 51. Stefon
Watch HERE
 
 52. Sue
Watch HERE
 
 53. Toonces the Driving Cat
Watch HERE
 
 54. USA Day in the Office
Watch HERE
 
55. Samurai Hitman
Watch HERE
 
56. (Do It on My) Twin Bed
Watch HERE
 
57. Astronaut Jones' telephone
WATCH
MORE INFO: Kevin McCauley is the amazing artist behind these and some other well known emoji. (He also designed the Seinfeld Emoji, which, if you haven't seen, do yourself a favor and check it out.)  Kevin was kind enough to give me a little more info about the SNL emoji.  Here is what he had to say.

ME: How does one become the official emoji artist of SNL?
KEVIN:  "My first project with the Emoji was Seinfeld Emoji, which was a huge viral thing last year and kind of put me on the map for this sort of thing. That's how SNL found me. Working with Saturday Night Live was pretty much a dream come true. I've always been a fan. After the app was released and I watched the 40th anniversary show, it really put it in perspective how special it was to be a small part of that. "
ME: How did the subjects get picked, some are very obscure while some major characters and themes are omitted?
KEVIN:  SNL picked the subjects. They approached me, asked me for some suggestions, and they considered those and came back to me with a list. I made all 60 of the items on the list — none were cut, and none were left un-created. I have to say, they really 'got it', they picked good objects and characters and gave me a lot of freedom. They understood that 'X rendered as Emoji' is the joke, there doesn't have to be a joke within the joke or something heavy-handed to make them funnier. They were really great to work with.
ME: Which is your favorite emoji in the bunch?
My favorite is probably chopping' Broccoli, because I've always loved Dana Carvey and I was thrilled that I got to depict one of his iconic comedy bits. When you see it, you know exactly what it is. My favorite character is Stefon, I liked how it turned out, and it think the Emoji is somehow very expressive, because you immediately think of Bill Hader's incredibly and hilarious performance as the character, so the Emoji really benefits from that.  Also it was cool to see personalities and some of the cast reference the emoji on Twitter!
ME: What program or programs do you use to make emoji?
I use Illustrator to create the Emoji characters. I frequently reference the standard iOS Emoji and always try to stay true to that aesthetic, while still making them personalized and unique to what I'm trying to depict.