This is an archived article and the information in the article may be outdated. Please look at the time stamp on the story to see when it was last updated.
The Philadelphia Naked Bike Ride rolled through Philadelphia August 24.  The PNBR is a ride, not a race. It's a leisurely ride of 10 miles in about 3 hours.  Naked is not 100% accurate as PNBR is a "bare as you dare" event.  The spirit of the event is to shed excess and be "nude," but you don't have to be naked to ride.  That said, some people are naked in the photos and video that follow. If that sort of thing offends you, please STOP RIGHT HERE.  We've done our best to edit, but given the 1000s that ride– we miss a body part now and again!  Again, it's got "naked" in the title folks, please don't be offended!
The spirit of Philly Naked Bike Ride is simple. Ride naked: shed the excess; Stand up for bikes; Stand up for the environment; Stand up naked on your bike.  Many riders paint messages on their body to spread awarenees for a cause they are passionate about, and of course to conceal body parts.  No matter how much or little riders "bare"– it's both liberating and courageous to take part in this event.  The PNBR2013 began at Penn Treaty Park and, like other years, ended at the Piazza.
Here's some Raw Video from the event.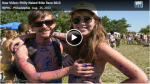 And here is a bonus Philly Naked Bike Ride photo gallery for those that just can't get enough PNBR.
By: Tony Romeo / PHL17
@tonyromeo
More from Philly Naked Bike Race Archives:
2013 Philly Naked Bike Race
2011 Philly Naked Bike Race