This is an archived article and the information in the article may be outdated. Please look at the time stamp on the story to see when it was last updated.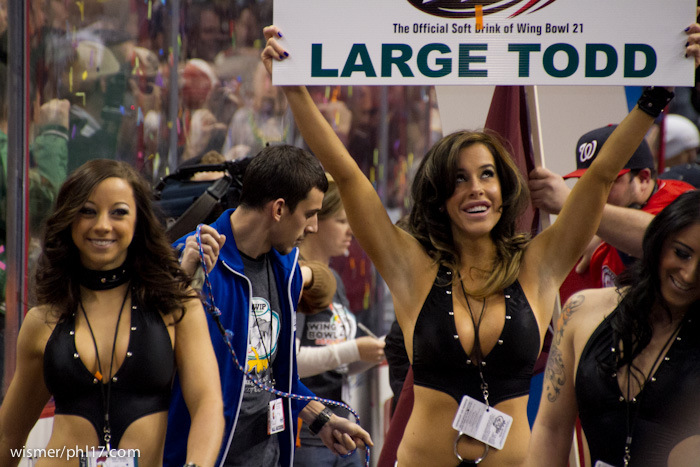 Wing Bowl started in 1993 as a way to forget a particularly dismal Eagles season.  A local radio station, WIP, decided to have a party anyway and the theme was two guys in a wing eating contest.  Twenty plus years later? WIP Sports Radio Wing Bowl 21 is an event that sells out the Wells Fargo Center with over 30 highly competitive eaters, Wingettes, entourages and twenty thousand fans getting up at 5am, if not earlier, to take it all in at the Wells Fargo Center. Top eater and hottest Wingette receive prizes.  And beginning in 2013, there is both a local and a national prize for eating.  Enjoy the WIP Wing Bowl 21 Photos Below divided into categories! (Best of WIP Wing Bowl 21, Wingettes, Eaters, Entrances, Archives and Video.)
The contestants and odds for WIP's Wing Bowl 21, 2013 and odds are below.
National Competition:

(Winner: $20,000)
Name:
From:
Nickname:

Jonathan Squibb
*James McDonald
*Todd King
*Andrew Skweres
*Jordan Avalos
*Wayne Algenio

Berlin, N.J.
Granby, Conn.
Columbia, Md.
Chicago, Ill.
Granbury, Texas
Hollis, N.Y.

Super Squibb
The Bear
Large Todd
Chicago Style
Baby Face
Wayneywonder

Local Competition:

(Winner: 2013 Pathfinder)
Name:
From:
Nickname

Dave Goldstein
David Brunelli
Gerry Spearing
Stacey McCarthy
Jack Diamond
*Richard Franceschi
*Matt Haas
*Andrew Cordisco
Jason Hull
*Keith Carmen
John DelVecchio
Dan Trainor
Joe Illgas
Dimitry Shchupak
*Dakota Kauffman
*Anthony Wisniewski
Richard Razzi
*Michael Barkowski
*Joseph Cole Barleta
Brendan Lyman
Robert Garges

Voorhees, N.J.
Philadelphia, Pa.
Philadelphia, Pa.
Allentown, Pa.
Bainbridge, Pa.
Franklinville, N.J.
Quakertown, Pa.
New Hope, Pa.
Philadelphia, Pa.
Mt. Laurel, N.J.
Mt. Ephriam, N.J
Lincoln University
Kennett Square, Pa.
Langhorne, Pa.
Macungie, Pa.
Philadelphia, Pa.
Schwenksville, Pa.
Wilmington, Del.
Philadelphia, Pa.
Philadelphia, Pa.
Warrington, Pa.

.

US Male
Tiger Wings & Things
Iceman
Eateroma
Snack Jack
Uncle Rico
Hog n Haas
King Disco
The Shocker
South Jersey Keith
The Bulldog
Bam Bam Wingalow
Elmer Fudd
The Ukraine Train
Sgt. Home Wrecker
The Wiz Kid
Not Rich
The Polish Hammer
Johnnie Excel
Skin Bones
Farmer Bob

*rookies