This is an archived article and the information in the article may be outdated. Please look at the time stamp on the story to see when it was last updated.
BERLIN, N.J. (PHL17) — When Michelle Bonamassa and her family moved to Berlin Borough ten years ago, Michelle thought it "seemed like it would be a nice small community to raise kids." This Sunday, that small community came up big to help her twins Jessica and Julia with a walk-a-thon that raised more than $13,000 in funds.
In 2010 the Bonamassa twins were diagnosed with Facioscapulohumeral Muscular Dystrophy. Now in eighth grade the once athletic young women struggle with mobility. Like many in the MDA fight, the Bonamassa family is discovering that not all expenses are covered by insurance.   Berlin Community School teachers,  school administration and the Bonamassas organized the Walk-a-thon to raise funds and awareness for families struggling to meet the costs associated with muscular dystrophy.  More than 500 people participated in the walk.  Michelle Bonamassa spoke at the event with her husband Sal, older daughter Natalie, and Jessica and Julia by her side and gave an emotional thanks to the outpouring of support given to her family.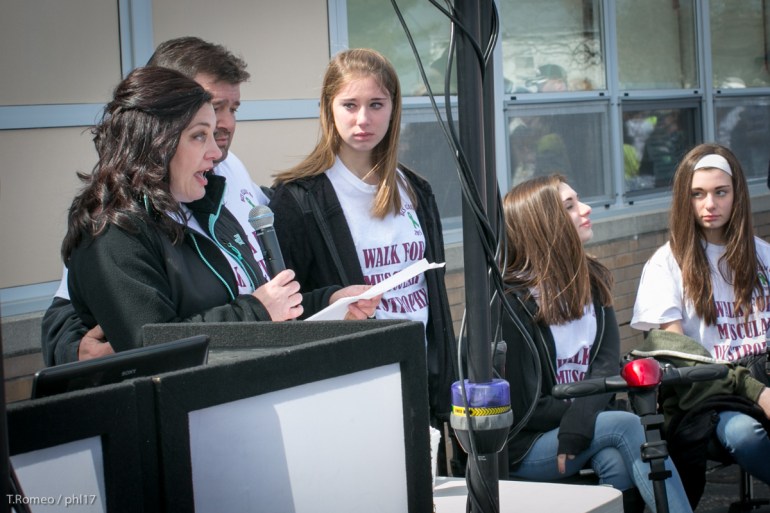 This walk at Berlin Community School was a precursor for the larger MDA event that takes place in King of Prussia on March 29th.  The funds donated Sunday go directly to MDA, but you can also donate directly to Jessica and Julia using their GoFundMe page.