This is an archived article and the information in the article may be outdated. Please look at the time stamp on the story to see when it was last updated.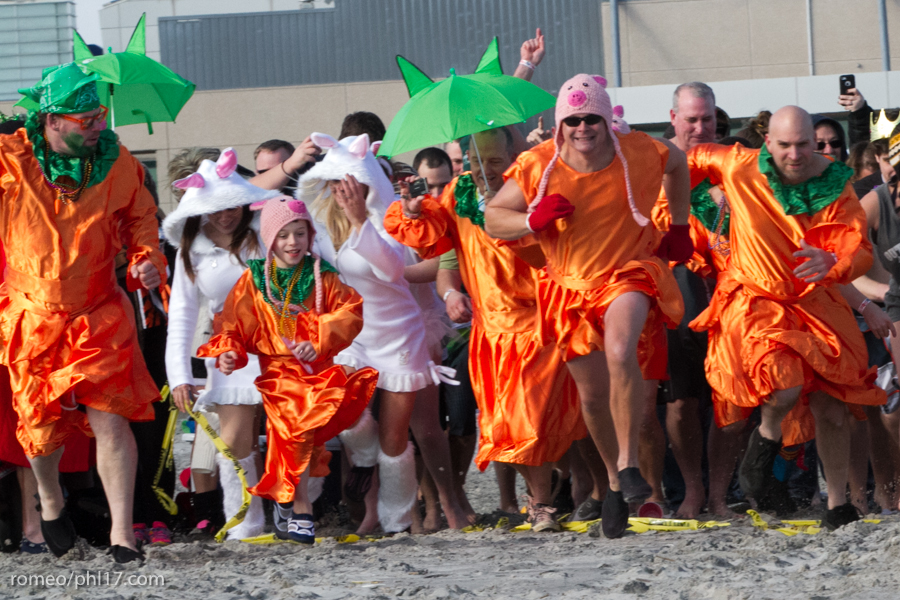 The 8th Annual Wildwood Polar Bear Plunge took place on January 18, 2014 on the frosty beach behind the beautiful Wildwood Convention Center.  The over 900 plungers consisted of teams and individuals many in costume. Avengers, animals, vikings, Reno 911, even Ace and Gary the Ambiguously Gay Duo,  but as always, PHL17 had a soft spot for those dressed in Mummers gear donated to the plungers by Cara Liom New Year's Wench Brigade.  Air Temps were in the 30s, wind chill in the 20s and the ocean was a chilly 37 with rough seas and cloudy skies that helped us get great Polar Bear Plunge Photos of the 2014 event. (Photos below.)  If you post photos of your own today, use these hashtags; #plunge, #pbp, #polarbearplunge, #sonj, #genuinejerseypride, #GJP.
The plunge itself is over in the blink of an eye.  The 900 plungers race to the beach in a frenzy to get in, and subsequently out, of the freezing Atlantic Ocean.  What constitutes a "plunge" also varies.  Some go in to about the ankles, some the knee and some of the hardcore plungers would still be in the water if not for safety personnel bringing them in. Can't get enough Polar Plunge Photos?  Check out our BONUS GALLERY below.
To be eligible to plunge, each polar plunger must raise $100.  The popularity of the Wildwood Plunge has turned the January Plunge one of the top single day fundraising event for the Special Olympics of NJ.  The 2014 total was $188,115, second only to Seaside Heights NJ total.  Top Earners and Teams included: Raymond Carr IV, Gary Evangelista, Don Rambo, Andy Hoglen, Leslie MacDonald, Salem County FOP, American Legion 184, Piggy Park Plungers, Delran FOP 230, Cape May and County FOP Lodge 7.  In addition to the respect and admiration from your peers, being a top donor can land you cool Polar Plunge swag.
Please visit the Wildwood, NJ Tourism site for more great events at the Convention Center and Special Olympics of NJ for other events and fundraisers.