This is an archived article and the information in the article may be outdated. Please look at the time stamp on the story to see when it was last updated.
The Philly Naked Bike Ride is one of the most unique events that hits the city of "Brotherly Love" each year.  The ride, in its 6th year, began to spread awareness of bike advocacy and has grown each year in the number of riders, estimated at 3000 in 2014, and grown in purpose. The PNBR is a "bare as you dare" event, for a portion of the riders, that's "naked" but for most it's not just just sneakers and a birthday suit.  For many, it's body paint, with personal messages of awareness, charity, or positivity.    Below are some photos from Philly Naked Bike Ride 2014. (CAUTION PG-13).  Click here for BONUS PHOTOS from PNBR 2014. (Also PG-13).

The 2014 PNBR like all "Naked Bike Races" in this series, is a "ride" not a race.  The 10-mile ride happens at a leisurely pace.  The PNBR begins on Delaware Ave and ends at a secret location, but travels through many of the tops spots in Philadelphia for viewing, including Rittenhouse Square, Independence Mall, Philadelphia Museum of Art, Chinatown Arch, Prince Music Theater at Broad & Chestnut, Fireman's Hall Museum near 2nd and Race, JFK Plaza, UPenn Locust Walk Bridge, Logan Square, The steps of the Federal Courthouse at 9th and Market.
[protected-iframe id="dba75350d5a67ba42dd224484ea016d4-47426323-47181203″ info="//player.ooyala.com/v3/b2b86e82aa149f09cf286ff01a8a3dc" ]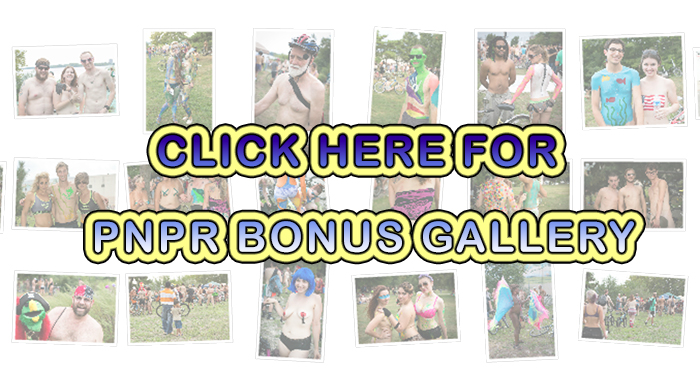 For more info on the good folks at PNBR, check them out on Facebook.  Below our archives is a place for you to share your PNBR images.  We'd love to see and we will publish some so please include your name if you'd like photo credit.
PHL17 Philly Naked Bike Ride  Archive:
2014 Philly Naked Bike Ride Photos
2014 Philly Naked Bike Ride Bonus Photos
2014 Philly Naked Bike Ride RAW VIDEO
2013 Philly Naked Bike Ride RAW VIDEO
2013 Philly Naked Bike Ride Photos
2011 Philly Naked Bike Ride Photos
By: Tony Romeo / PHL17
Got a great idea for a web story? Tweet me @tonyromeo or send me an email.  As always, thanks for the tip!