This is an archived article and the information in the article may be outdated. Please look at the time stamp on the story to see when it was last updated.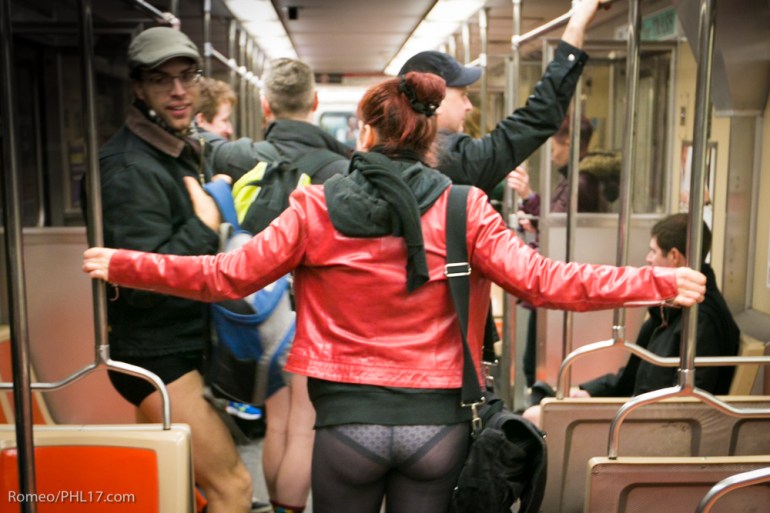 Nothing rings in a new year like the Philadelphia leg (see what I did there!) of the worldwide "No Pants Subway Ride" campaign by Improv Everywhere.   In this group improv effort, subway riders simply take off their pants.  One criticism often hurled at the NPSR is,"WHY?!"  In some cities the why is a little slippery, but in Philadelphia the event pairs with Got Laundry.  The family run Philadelphia business headed by Ray and Takiyah Wall turned the Philly event into a clothing drive for the homeless by both collecting garments and donating a gaggle of volunteers and tons of t-shirts for participants.  Here are some photos from the 2015 No Pants Subway Ride in Philadelphia.
The 2015 edition of No Pants Subway Ride took place in Philadelphia on January 11th under the organization of Caleb Derby and provided all sorts of really interesting under-things from people of all ages. As always the ride turned a few heads of some riders that had no idea exactly what was happening. *(A porting of these riders on the Philadelphia Subway may or may not ever know what is happening.  It's an interesting subway!)
The desired result of the improvisational effort is for the players involved to keep a straight face, act as if everything is normal while other passengers look on.  Lots of the photos above show great examples.  When the day was over however, the participants let loose in a little No Pants Subway Dance.
All in all it was a great day in Philadelphia to raise some awareness and lower some pants.  See you next year no pants fans.
By: Tony Romeo / PHL17
Got a great idea for a web story? Tweet me @tonyromeo or send me an email.  As always, thanks for the tip!