This is an archived article and the information in the article may be outdated. Please look at the time stamp on the story to see when it was last updated.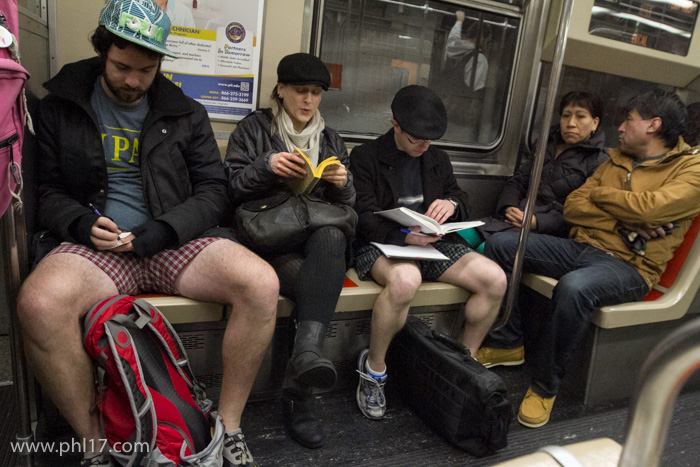 No Pants Subway Ride let a little of it hang out this weekend in Philadelphia.  Taking its cue from the New York based impov group, Improv Everywhere, the Philadelphia version joined 60 other similar events worldwide on January 13th.   Their mission?  Ride the subway for about an hour, minus their pants, to "causes scenes of chaos and joy."  If you are thinking lingerie or barely there briefs– think again.  These definitely are your grandparents underpants.  Granny panties, giant boxers and big briefs are the norm.  While No Pants Subway Ride does have its detractors it's really just good clean fun.  At least as clean as the ample undies that cover the participants.
The good folks at No Pants Subway Ride could not have picked a better January day in Philadelphia for their fourth annual pants less ride. The frigid temps of the previous years gave way to a relatively mild temperature of 50 degrees and a light mist. The weather was not the only thing that cooperated with the no pants group,  onlookers were tolerant- if not friendly, (one even joining in an impromptu fashion), police and rail personnel were all smiles and one subway attendant even opened a gate for the riders and on-lookers to ride for free. This year No Pants Subway Ride partnered with Urban Underground a Philadelphia performance art group and was organized by Richard Furstein and Connie Lin.
[protected-iframe id="952c7d5fe8f56dd83d959a85d11103d9-47426323-47181203″ info="http://embed.newsinc.com/Single/iframe.html?WID=2&VID=24226048&freewheel=91048&sitesection=wphl&height=325&width=580″ width="580″ height="325″ scrolling="no"]
Enjoy the photos and video from 2013!  And if you can't get enough of people without pants on the subway, check out our 2012 No Pants Subway Philly Archive.