This is an archived article and the information in the article may be outdated. Please look at the time stamp on the story to see when it was last updated.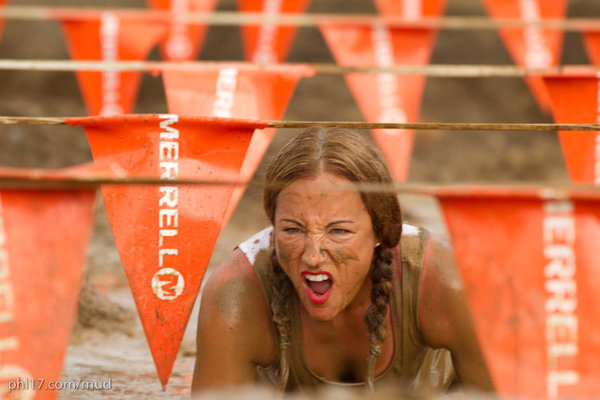 The 2012 Merrell Down & Dirty National Mud and Obstacle Series, one of the nation's premier obstacle races, mucked its way through Fairmount Park, Philadelphia, this weekend.  The 5k and 10k off-road race featured mud run teams with names like, "Dirty Girls", "Muddy Buddies", and "1 is the Dirtiest Number" battling military-style obstacles, commanding cargo climbs, wild water crossings, mud pits and each other.
Adventure runs like The Color Run, Tough Mudder, Spartan Challenge and Color Me Rad have become increasingly popular across the country, especially in Philadelphia.  The Philadelphia race was the largest Merrell Down & Dirty National Mud event thus far, attracting close to 10,000 participants and spectators.  (Mud Run Photos Below.)
If you are looking for your first mud run, Scott Roegner MESP Special Projects Coordinator has some advice, "You'll never know how much fun it will be until you come out and get Down & Dirty yourself! Whether you run it with a big team or solo, everyone is in it together and helps each other get over, under and through the obstacles along the way. It's finally a chance to play in the mud and not get in trouble for it!"
A portion of the proceeds from the Philadelphia Down & Dirty will benefit Operation Gratitude. Operation Gratitude is dedicated to helping the morale of service men and women deployed in hostile territories around the world by sending personalized care packages containing food, hygiene products, entertainment items and letters of appreciation. MESP, the sports marketing firm that organized the Merrell Down & Dirty, has raised over $100,000 for Operation Gratitude and plans to raise $100,000 more.
"It is the least we can do for such a tremendous organization and the military personnel we are so fortunate to stand behind," said Michael Epstein, President of MESP, Inc. "We remain committed to those protecting our country as we recognize the value they create and the sacrifice they have made – we hope others will join our efforts."
Additional information, training programs and registration forms can be found on the website www.DownandDirtyMudRun.com and social media pages – Facebook.com/DownandDirtyMudRun or Twitter @DownDirtyMudRun.
By Tony Romeo
4:59 p.m. EDT, July 12, 2012
Mud Run Archives:
PHOTOS: 2013 Merrell Down & Dirty Mud Run
PHOTOS: 2013 Filthy Fun Run
PHOTOS: 2012 Filthy Fun Run
PHOTOS: Tough Mudder PA 2012
PHOTOS: Ultimate Mud Run Night Ops 2012
PHOTOS: Muck Ruckus Philly 2012