This is an archived article and the information in the article may be outdated. Please look at the time stamp on the story to see when it was last updated.
We love a good beer event at PHL17, but we especially love the ones that take place in Camden, NJ aboard the USS New Jersey.  So, in no particular order, here are 17 photo and video reasons to love the Battleship NJ Beerfest, or the 2013 Garden State Craft Brewers Guild Beer Festival as the real craft beer kids call it.
17. Photo ops galore
This slideshow requires JavaScript.
Think about it, you're on the beautiful Battleship NJ for starters– the Camden waterfront is on one side and a great Philly skyline on the other.  Lots of beer signage and lots of interesting guys and girls in varying degrees of sobriety to make for great pictures. Here's some of our photos from the day.
16. Many New Jersey breweries to choose from
The entire fantail of the USS New Jersey is packed with 19 brewers from all over the Garden State.  Most are serving several styles of their product and most are serving from a tap, (very few bottles). It's a chance to sample beers in a small setting that would take you months and lots of money otherwise.
15. Hot guys and girls that only get hotter as the day goes on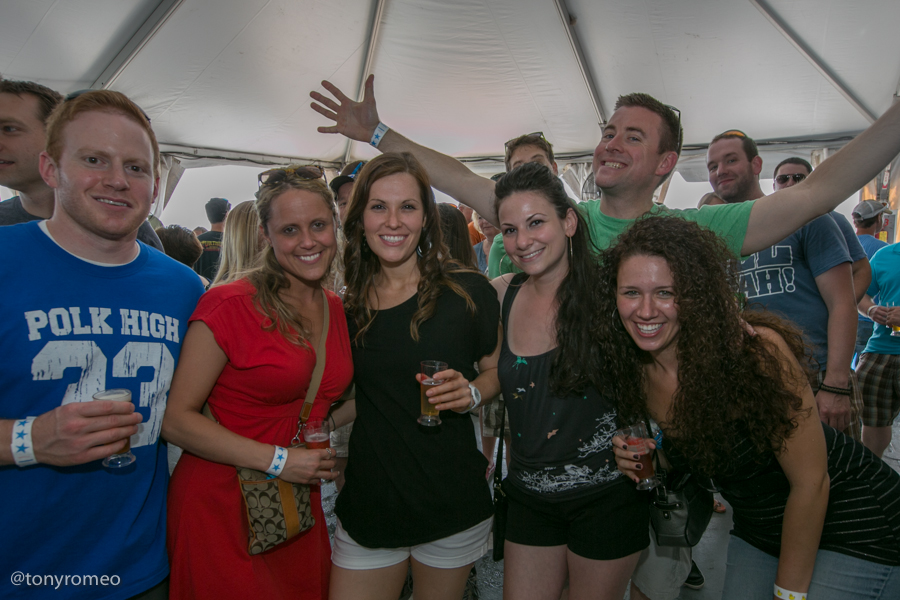 If love is not on your mind when you get to Beerfest, it will be after a few.  Isn't that always the way it works?  Still, beer goggles not withstanding, there are always an awful lot of sexy people walking the decks of the USS NJ.
14. Male or female bonding
Need to work something out with one of your bros, why not  work it out after 14 or 15 beer samples on the deck of the USS NJ?  You and one of your girlies need to laugh at life's absurdities?  The same deck is available. More samples, more bonding.  Hug it out, fellas.
13. Don't like a beer?  Chuck it and go to the next one
Just because the brewer gives you a sample of a fine NJ brew, that doesn't mean you have to like it.  Every brewery has buckets for discarding beers and for rinsing your sample glass. If you hate a beer, be a sport and don't chuck it right in front of the guy that probably brews it!
12. Special Guests: The Philly Passion
The 2013 NJ Beerfest on the Battleship NJ included a table of 5 women from the Legends Fantasy Football League; the league you know and love as the Lingerie Football League. They made lots of friends on deck and became more and more popular as the day went on.  A quick hello from Christy Bell and Megann Lawrence in this video.
11. Flying Fish: FU Sandy summer 2013 brew
Gene Muller, founder of Flying Fish Brewery, tells us all about a special brew for this summer called Forever Unloved Sandy.  (FU Sandy for short).  They have raised over $45,000.
10. Awesome Beer T-Shirts
Whether they are for sale, or on other people, a cool t-shirt is a beerfest staple.
9. The Battleship NJ is its own field sobriety test
The USS New Jersey construction began in 1940 and the ship launched in 1942 to be used in combat.  So while Beerfest is fun, the decks are way tricky! There are lots of uneven surfaces, wooden planks, narrow spaces, slippery areas and tight walkways, etc. etc.  After several brew samples, if you can still navigate the ship with relative ease, you're good to go– if not, let someone else drive home.  *(NOT AN ACTUAL SOBRIETY TEST– Drink Responsibly.)
8. Beerfest Volunteers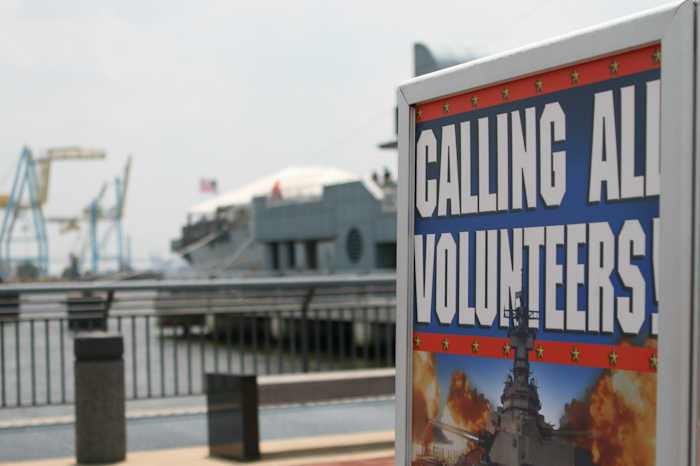 Beerfests can't happen without the fine, fine volunteers that keep things running smoothly.  The green-shirted folks you may have seen at the 2013 NJ Beer Crafter's Guild were there on a volunteer basis.  The USS NJ also uses veteran volunteers that keep the attraction ship-shape the entire year.
7. NJ Memories
If you are the kind of person that spends a Saturday in Camden attending Beerfest, you are probably no stranger to NJ.  The 19 brewers that attend come from every corner of NJ.  From southern Cape May to northern Atlantic Highlands and over a dozen in between.  Every trip to a brewer at this NJ flavored beerfest can bring you back to a little piece of NJ you may have forgotten.  For me this year it was Harvest Moon!  It has not been there since college and totally forgot about it til I sampled a delicious beer and was transported right back to College Ave. (Roland, Brick, Prof. "Not Today" Gibson, Delafield Ave– Cheers! Wherever you are.)
6. You're going to meet some real characters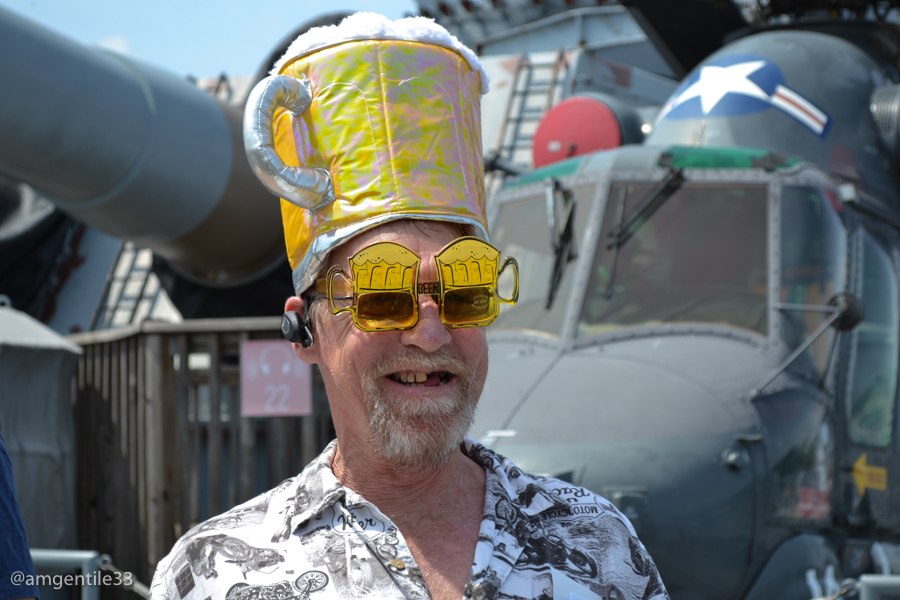 Even if you drink all the time, something about the tiny beers in varied rapid succession seem to loosen up the crowd.  You may go to your town bar and drink a case of tap beer and not say a word to a single soul, but for some reason after a few 5 ounce crafts on the Battleship it's all smiles and you have a fantail full of new friends.  Some of those new friends are bound to be characters you won't forget!
5. Music: The Cabin Dogs
The Cabin Dogs have been providing great musical entertainment for the NJ Crafter's Guild for over 10 years.
4. Beer apps and beer blogs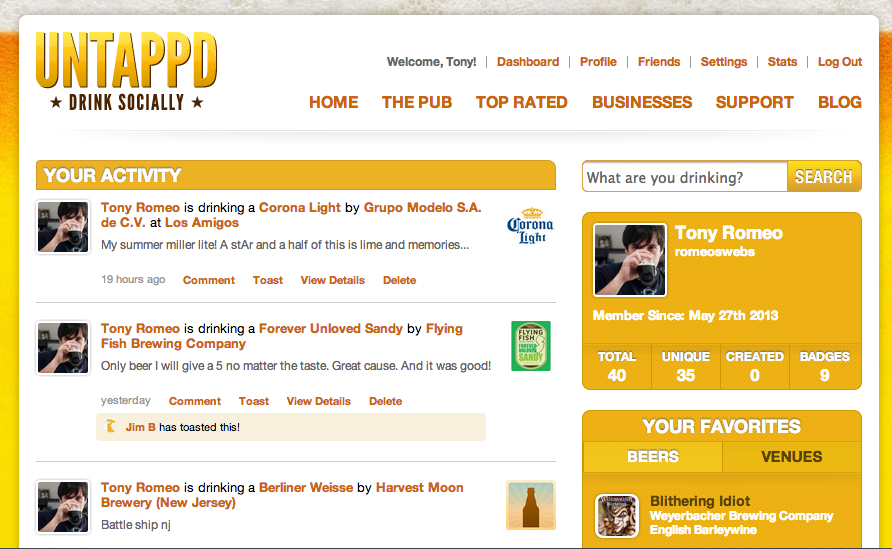 For interactive social media types, we are living in the golden age of social beer sampling and information.  Great local blogs like phillybeerscene.com and drinkphilly.com give readers the scoop on beer happenings in the Delaware Valley and apps like Untappd let you log in and track, rate, photograph, share and comment on any and every beer you have.  It's like Facebook.  Just for beer!
3. The Battleship is filled with cool places, great views and awesome things
The Battleship NJ is just a cool thing to walk around, whether you are at Beerfest or not.
2. Great food
You know what tastes great at a beerfest?! EVERYTHING!  You've just sampled 10 different ales and you are starving. You could eat off the deck and it would taste great.  But there actually IS great food at this beerfest.
1. You're benefiting a piece of American history that needs and deserves your support
The Battleship NJ is a floating monument to brave men and women that serve, have served, and will serve our great nation.  The ship is the most decorated battleship in Naval History and they do much more than Beerfest.  Please visit their website for more info and check out Marketing Directer, Jack Willard for more about the battleship.
By: Tony Romeo / PHL17
Follow me on Twitter @tonyromeo
Drink with me on Untappd